Welcome to Escribiente
Meetings are held on the first Wednesday of the month, and we welcome guests and members of the public who have an interest in learning more abut the fine art of beautiful writing. Please see our Meetings page for full details and directions and download our Newsletters for reviews and photos from our workshops and programs.
Meetings
Meet and mingle with local Escribiente calligraphers at our free monthly meetings. Guests welcome, so just drop by! We meet the first Wednesday of most months at the Manzano Mesa Multigenerational Center in Albuquerque (southwest corner of Elizabeth and Southern).
October 5, 2016, 6:30pm
Sizing Paper for Calligraphy
Hands-on program. Learn tips and techniques for writing on unsized thin or absorbent paper. Paper samples and size will be provided; bring your own favorite nibs and ink, as well as your own paper if you'd like to test it. Create a sample sheet and take notes of what works best!
Calligraphy Class for Beginners
Monday evenings 6:00 – 8:00 pm
September 12 – October 17, 2016
Manzano Mesa Multigenerational Center, Room 3
501 Elizabeth SE, Albuquerque NM 87123
Calligraphy is more than 'beautiful handwriting' or ornate lettering. Learning calligraphy can lead to artful self expression such as creatively addressing envelopes and enhancing greeting cards, posters, and more. Practicing calligraphy is relaxing and therapeutic, helping to relieve stress, and can also improve motor skills.
Sign up today for a free six-week course on the art of calligraphy!
Instructor: Jan Florence
Class is free for Adults & Youth over 14.
Materials Fee: $20 (paid to instructor at first class).
Register by calling Manzano Mesa at (505) 275-8531
Note: If student does not already have a yearly membership with the City of Albuquerque, there will be an additional $13 fee to join.
New Mexico State Fair 2016
The New Mexico State Fair is held at Expo New Mexico
Wednesday, September 8 – Sunday, September 18, 2016
Escribiente members display their fine art of beautiful lettering at the State Fair each year in the Creative Arts Building at NM Expo, Albuquerque. The Juror for this year's exhibit was Meredith McPherson, assisted by Escribiente VP Trish Meyer. Below is our show from September 2016: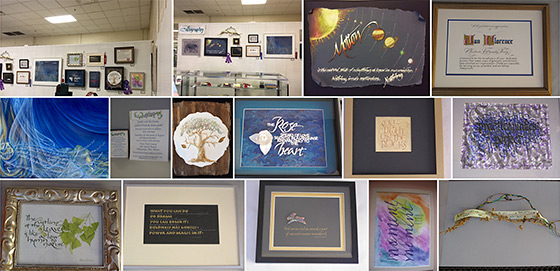 View Flickr slideshow of the Calligraphy exhibit at the 2016 New Mexico State Fair.

Weathergrams Installation @ Open Space Visitor Center
Open Space Visitor Center, 6500 Coors Rd. NW, Albuquerque, NM 87120
Over 150 weathergrams created by calligraphers from Escribiente can be viewed on trees around the Visitor Center grounds as a temporary art installation. The weathergrams will be on display in early September until the weather takes it toll!. Thank you to all the Escribiente members who created Weathergrams and donated their time to demonatrate calligraphy to the public at the August 13th open house.
View Weathergrams Photo Album on Flickr
Upcoming Workshop:
Contemporary Decorated Letter
Workshop with Nancy Culmone
September 24–25, 2016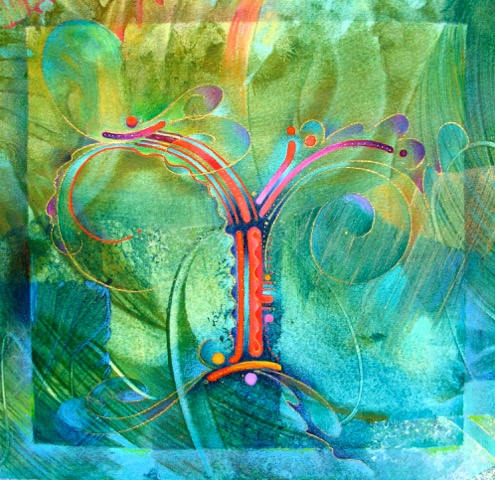 Our class is about exploration and the only requirement is an adventurous spirit. Beginning with a series of structured yet experimental exercises, you will create unique, contemporary alphabetic forms grounded in the venerable tradition of decorated letters. Your letters will run the gamut from elegant to edgy, whimsical to bold to fragile. Read more...
Workshops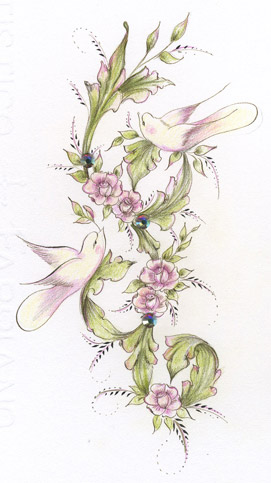 The Victorian Pen
Workshop with Heather Victoria Held
View Flickr Photo Album from this workshop
Heather led students through simple drawing exercises which were then transformed into innovative decorative designs. The pointed pen was combined with coloured pencil, watercolour and gilding in this workshop. We focused on traits and colours that were popular in Victorian decorative designs. Starting with simple corner flourishes we gradually expanded into more intricate and detailed designs.
Visit Heather's website.
Also check our page of Local Calligraphy Classes offered by Escribiente members.
Escribiente Mentor Program
Escribiente has a mentor program for new members. Our objective is to assist new members with calligraphy and the many things associated with it. This is not designed to teach a hand, but to assist with various techniques and questions such as:
How do you do that?
I want to do this – but where do I start?
What should I use ( i.e. ink, tool, paper)?
Guidelines?
I can't make that letter, what am I doing wrong?
Squash??? Well that is what it sounded like. (Gouache)
Can you do calligraphy on this?
And the many more questions that we all had when we were first starting out.
It will not all be on your shoulders, if you don't know the answer you can find out or refer them to another member that you think would know the answer. But the best thing that will happen is the possible friendship that may develop for you and Escribiente. This will make the new member gain confidence in their ability as a calligrapher and feel like one of us (experienced calligraphers anyway) much faster. I remember the excitement of looking at all the strange tools, the mystery of how do they make those pens make letters like that and many other questions.
If you are interested in becoming a Mentor or having a Mentor, contact Jan Florence: H 505-281-5771 (call first) - C 505-269-8867; email: