Welcome to Escribiente
Meetings are held on the first Wednesday of the month, and we welcome guests and members of the public who have an interest in learning more abut the fine art of beautiful writing. Please see our Meetings page for full details and directions and download our Newsletters for reviews and photos from our workshops and programs.
40th Anniversary Exhibition
Enchanted Calligraphy
Opening Reception: First Friday, April 6, 2018, 5–8pm
Artist Talk: Saturday, April 14, 1–3pm
MATRIX Fine Art, 3812 Central Ave SE, Suite 100. Albuquerque, NM – Tel: 280.8659
Regular hours: Thursday, Friday, Saturday, 11am – 5pm.
MATRIX is located on Central Avenue in the heart of Nob Hill, 2½ blocks east of Carlisle.
Free parking lot behind gallery (corner of Silver & Solano).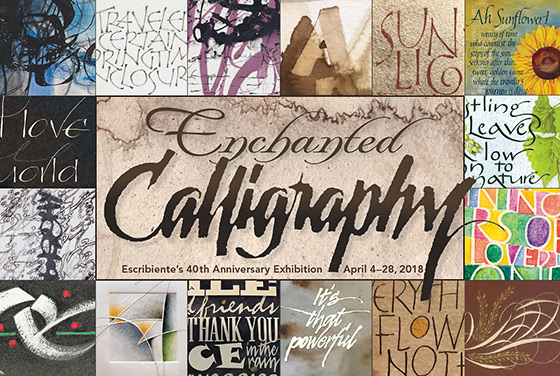 Escribiente celebrates its 40th anniversary with a member exhibition of calligraphic art that showcases a diversity of styles and techniques. "Enchanted Calligraphy" delights with delicate ornate flourishing and 3D lettering, as well as abstract mixed media art. Please celebrate with us at the Opening Reception, help as part of the First Friday ARTScrawl.
On Saturday, April 14, 1–3pm, calligraphers from Escribiente will talk about the art on display and demonstrate a variety of tools and techniques during the event. Learn how easy it is to get started!
Meet and mingle with local Escribiente calligraphers at our free monthly meetings. Guests welcome, so just drop by! We meet the first Wednesday of most months at the Manzano Mesa Multigenerational Center in Albuquerque (southwest corner of Elizabeth and Southern). More details on our Meetings page.
Wednesday, May 2, 2018, 6:30pm
(Q&A in lobby 5pm; social time 6pm)
Bookhand Bound
Presented by Elizabeth McKee
Because Bookhand/Foundational is considered the ideal calligraphic hand for text within books, this month's program will lead members through the process of text layout and binding. Jan Tischold's formulaic text block layout for successful text design layout will be discussed, followed by hands on binding. A pre-printed text block will be supplied to members for binding a simple 5-hole pamphlet stitch binding which will serve as both 'dummy' and instruction for future reference. Supplies will be provided by Escribiente, but please your own bookbinding supplies if you have them.
WORKSHOP
Two-day Workshop with Randall M. Hasson
Saturday-Sunday, April 21–22, 2018
Download Registration Form & Flyer (PDF)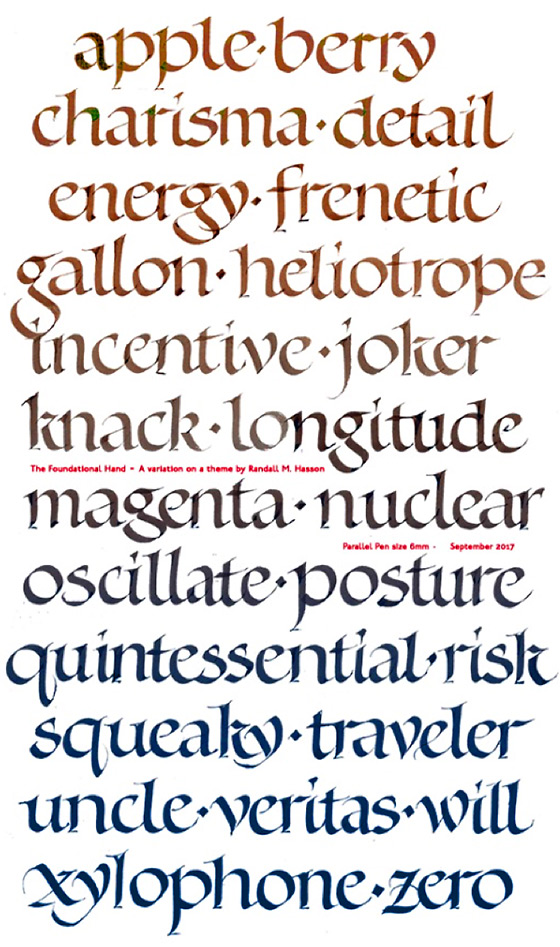 For beginning or intermediate students, this workshop will work with the analysis, structure and mechanics of a calligraphic hand called Foundational. We will begin with familiarizing ourselves with the characteristics of the letterform and use tools that facilitate ease of writing. We will also delve into the history and evolution of the chosen letterform, creating historical context for the style of writing and familiarizing ourselves with its characteristics such as entry and exit strokes, proportion, branching and size & weight. We will look at examples of how contemporary calligraphers work with the basic hand.
For beginning students, day two will continue work with these forms while intermediate and advanced participants will have the option of working on variations of the foundational, using techniques and tools to modernize the hand to suit their own style and personality. We'll address beginnings, endings and alternate forms to give your Foundational Hand a personality of its own. More details...
Latest Newsletter
2018–1 (January)
Download Screen Resolution PDF (4MB), or click Cover
Download Print Resolution PDF (12MB)

2017 Christmas Party photo gallery
The Pilgrimage of Makers by Laurie Doctor
Paste Papers – Elizabeth McKee workshop review by Penny Bencomo
Study Calligraphy in Santa Fe with Edi Klingner
The Beginner's Week: Dissecting the Italic Hand wiht Joyce Teta – workshop review by David Gasser
Making Valentines at Kathy Chilton's studio
New Mexico State Fair 2017
Escribiente members exhibit each year at the New Mexico State Fair in the Creative Arts Building at the NM Expo during the month of September. The Juror for 2017 was Randall M. Hassan.
View Slideshow of this year's entries on our Flickr account.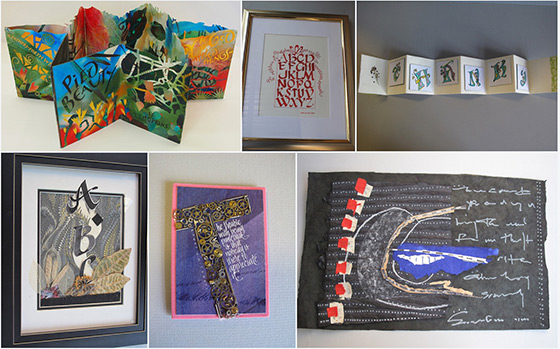 Weathergrams Installation
Open Space Visitor Center, 6500 Coors Blvd. NW, Albuquerque NM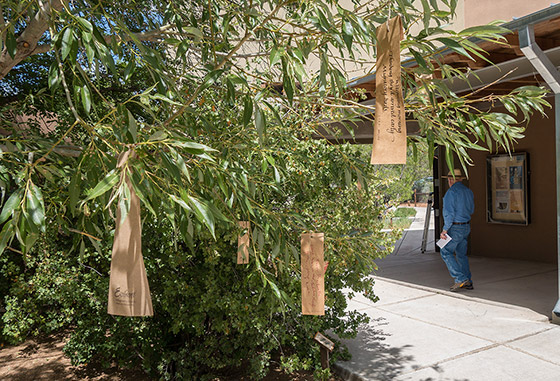 In conjunction with local poets, Escribiente members calligraphed hundreds of Weathergrams that were hung on trees around the Open Space Visitor Center grounds as a temporary art installation starting in  mid-May 2017.
As a fundraiser during the Poets Picnic event on May 20th, our members also created custom Weathergrams for poets. Trish Meyer created 200 copies of a limited edition poetry chapbook featuring artwork from Julie Gray, Beth McKee, Caryl McHarney, and Janice Gabel (all eight images are shown below). Along with other event sales, over $1500 was raised for Open Space Alliance, a nonprofit organization whose purpose is to promote public awareness and conservation of Open Space lands.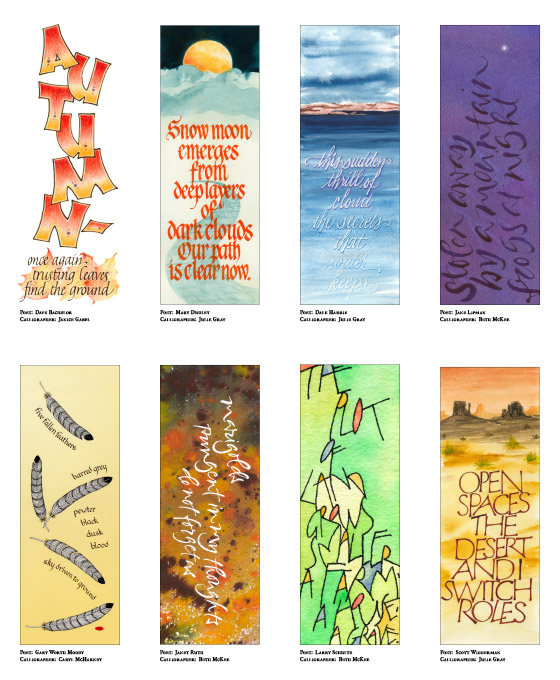 If you haven't been to the Open Space Visitor Center on Coors Blvd NW, check out their website.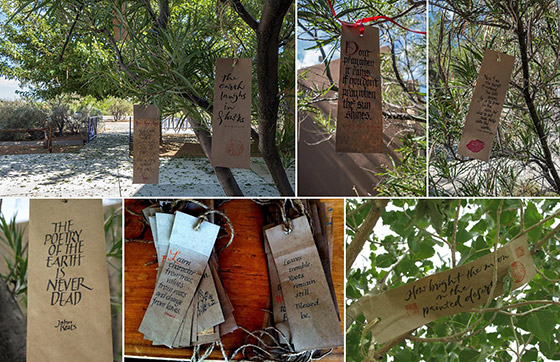 Escribiente Mentor Program
Escribiente has a mentor program for new members. Our objective is to assist new members with calligraphy and the many things associated with it. This is not designed to teach a hand, but to assist with various techniques and questions such as:
How do you do that?
I want to do this – but where do I start?
What should I use ( i.e. ink, tool, paper)?
Guidelines?
I can't make that letter, what am I doing wrong?
Squash??? Well that is what it sounded like. (Gouache)
Can you do calligraphy on this?
And the many more questions that we all had when we were first starting out.
It will not all be on your shoulders, if you don't know the answer you can find out or refer them to another member that you think would know the answer. But the best thing that will happen is the possible friendship that may develop for you and Escribiente. This will make the new member gain confidence in their ability as a calligrapher and feel like one of us (experienced calligraphers anyway) much faster. I remember the excitement of looking at all the strange tools, the mystery of how do they make those pens make letters like that and many other questions.
If you are interested in becoming a Mentor or having a Mentor, contact Jan Florence: H 505-281-5771 (call first) - C 505-269-8867; email: