Welcome to Escribiente
Meetings are held on the first Wednesday of the month, and we welcome guests and members of the public who have an interest in learning more abut the fine art of beautiful writing. Please see our Meetings page for full details and directions and download our Newsletters for reviews and photos from our workshops and programs.
Meet and mingle with local Escribiente calligraphers at our free monthly meetings. Guests welcome, so please drop by! We meet the first Wednesday of most months at the Manzano Mesa Multigenerational Center in Albuquerque (southwest corner of Elizabeth and Southern). More details on our Meetings page.
Wednesday, October 3, 2018, 6:30pm
(Q&A in lobby 5pm; social time 6pm)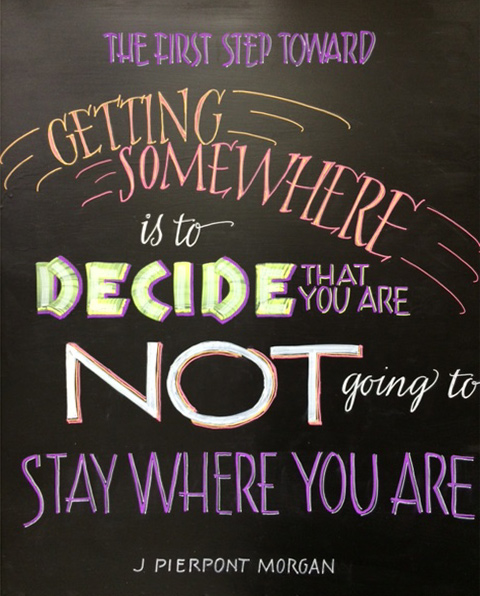 Drawn Capitals
Demo by Janice Gabel
We will continue our study of capitals, using pencil to draw flesh on the bones of monoline caps. We will look at historical versals and learn how to develop our own styles.

Supplies to bring:
Pencil Eraser
Bond or graph paper
Tracing paper
Micron or Pitt pen
A few colored pencils or fine tip markers
+ Seat cushion! (due to high tables)
and please return any library books you are done with!
We have a fabulous line-up of programs in the works for year around the theme of "CAPITALS"! See our Meetings page for more info and mark your calendar with November date change.
Our latest newsletter was released at the August meeting (see below), along with the latest Membership Directory.
New Mexico State Fair 2018
The New Mexico State Fair is held at Expo New Mexico, Albuquerque, NM
Thursday, September 6 – Sunday, September 16, 2018
Escribiente members exhibit each year at the New Mexico State Fair in the Creative Arts Building during the show. Our Jurors this year are Fred Yost and his wife Jaci Fischer.
(PDF) List of Ribbons Awarded for 2018 exhibit
View Slideshow of the 2017 entries on our Flickr account (highlights below). The Juror for 2017 was Randall M. Hassan.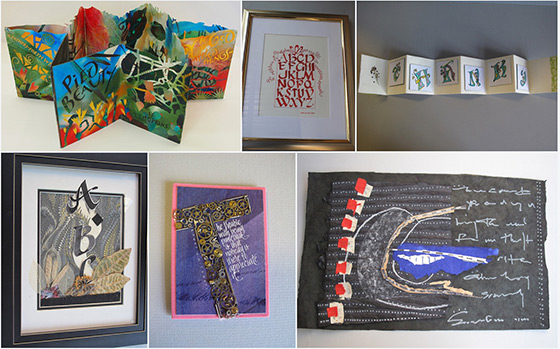 Latest Newsletter
Back issues are available for download on our Newsletter page.
2018–3 (July)
Download Screen Resolution PDF (4MB), or click Cover
Download Print Resolution PDF (17MB)

Member gallery
Unpredicted Motion by Elizabeth McKee
2018 Poets' Picnic/Weathergrams event at Open Space Visitor Center
We used to have Six More Letters in the English Alphabet by Hannah Pointexter
News: Calligraphy Club on the West Side!
Ghost Ranch Literally Letters 2018 –Workshop Reviews by Beth House
Workshop Review: Journaling Workshop with Caitlin Dundon at Ghost Ranch, by Janice Gabel
Poisoned Books from AtlasObscura.com
Oh My Gouche! Tips for using gouache for calligraphy.
Weathergrams Installation
Open Space Visitor Center, 6500 Coors Blvd. NW, Albuquerque NM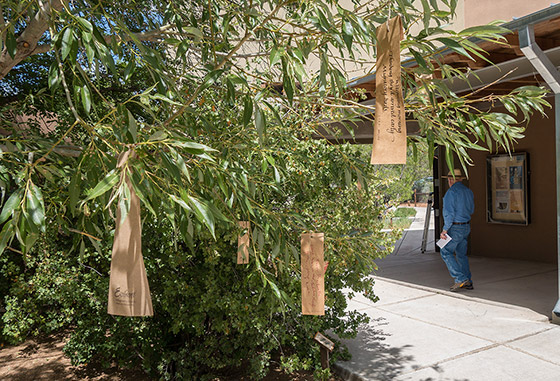 In conjunction with local poets, Escribiente members calligraphed dozens ofWeathergrams that were hung on trees around the Open Space Visitor Center grounds as a temporary art installation starting in mid-May 2018. View Photo Album on Facebook.
As a fundraiser during the Poets Picnic event on May 26th, our members volunteers to write custom weathergrams for the attendees. Also, in conjunction with LIBROS Book Arts group, our members provided original artwork that was included in a handmade poetry chapbook. Artwork (show below) was provided by Julie Gray, Beth House, Elizabeth McKee, Esther Feske, Caryl McHarney, and Janice Gabel.
All proceeds from the event benefitted Open Space Alliance, a nonprofit organization whose purpose is to promote public awareness and conservation of Open Space lands.
If you haven't been to the Open Space Visitor Center on Coors Blvd NW, check out their website.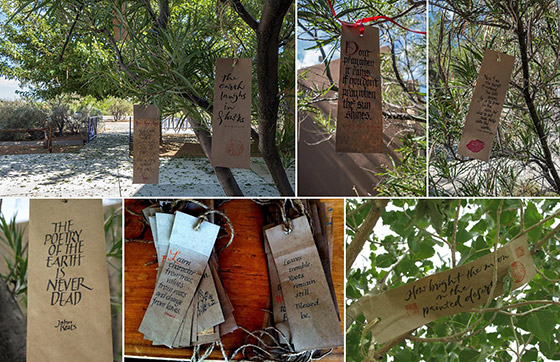 Escribiente Mentor Program
Escribiente has a mentor program for new members. Our objective is to assist new members with calligraphy and the many things associated with it. This is not designed to teach a hand, but to assist with various techniques and questions such as:
How do you do that?
I want to do this – but where do I start?
What should I use ( i.e. ink, tool, paper)?
Guidelines?
I can't make that letter, what am I doing wrong?
Squash??? Well that is what it sounded like. (Gouache)
Can you do calligraphy on this?
And the many more questions that we all had when we were first starting out.
It will not all be on your shoulders, if you don't know the answer you can find out or refer them to another member that you think would know the answer. But the best thing that will happen is the possible friendship that may develop for you and Escribiente. This will make the new member gain confidence in their ability as a calligrapher and feel like one of us (experienced calligraphers anyway) much faster. I remember the excitement of looking at all the strange tools, the mystery of how do they make those pens make letters like that and many other questions.
If you are interested in becoming a Mentor or having a Mentor, contact Jan Florence: H 505-281-5771 (call first) - C 505-269-8867; email: