Welcome to Escribiente
Meetings are held on the first Wednesday of the month, and we welcome guests and members of the public who have an interest in learning more abut the fine art of beautiful writing. Please see our Meetings page for full details and directions and download our Newsletters for reviews and photos from our workshops and programs.
Meetings
Meet and mingle with local Escribiente calligraphers at our free monthly meetings. Guests welcome, so just drop by! We meet the first Wednesday of most months at the Manzano Mesa Multigenerational Center in Albuquerque (southwest corner of Elizabeth and Southern).
Wednesday, June 7, 2017, 6:30pm
Pointed Pen Nibs
Presented by Bill Kemp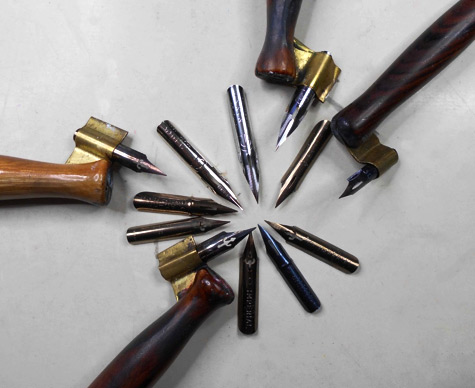 There are so many different pointed pen nibs on the market, which one should I use?
Have you ever asked this question to yourself as you look for the right pointed pen nib to use? Pointed pens nibs start at 25 different types! Plus there are even more types when you start counting the vintage nibs available. So what is the difference and how can you select the right one for your needs?
At our June meeting, Bill Kemp will try to break that mystery! Bill will have eight different nibs on hand for you to try. More details on our Meetings page...
Election of Officers for the 2017–18 year will be conducted at the June meeting. Please bring your dues! See our Membership page for details.
Weathergrams Installation
Open Space Visitor Center, 6500 Coors Blvd. NW, Albuquerque NM 87047
In conjunction with local poets, hundreds of weathergrams created by calligraphers from Escribiente will be hanging on trees around the Open Space Visitor Center grounds as a temporary art installation. The weathergrams will be on display for a period of time (after the Poets Picnic even on May 20, 2017).
If you haven't been to the Open Space on Coors, check out their website.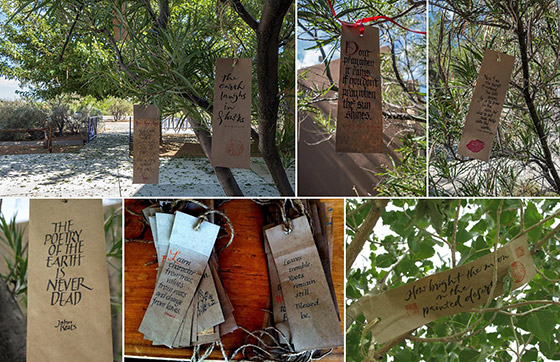 New Mexico State Fair 2017
The New Mexico State Fair is held at Expo New Mexico
Thursday, September 7 – Sunday, September 17, 2017
Escribiente members exhibit each year at the New Mexico State Fair in the Creative Arts Building at the NM Expo during the month of September. The Juror for 2017 will be Randall M. Hassan.
For entry requirements, download the Calligraphy PDF from the Creative Arts page.
Entry Dates
Friday, August 25, 9am – 5pm
Saturday, August 26, 9am–5pm
Acrobat Reader may be required to read PDFs (free from Get Adobe Reader).
2017–2 (May)
Download Screen Resolution PDF (5MB), or click Cover
Download Print Resolution PDF (15MB*Large!)

Workshop review: Textura and Fraktur workshop with Yukimi Annand
Photographing Calligraphy Part 2, by David Gasser
Postcard Journaling by Pat Vizzini
"The Improbable Calligrapher" by Caryl McHarney
Program: Ink & Paper Sampling review
Pointed Pen Variations with Jane Shibata workshop review (Letters-CA Style)
Gestures in Graphite with Barbara Close workshop view (Letters-CA Style)
Blackletter mini-workshops review
Book review: Decorated Lettering by Jan Pickett
Tips for Lettering Artists, and more
New Mexico State Fair 2016
The New Mexico State Fair was held at Expo New Mexico
September 8 – 18, 2016
Escribiente members displayed their fine art of beautiful lettering at the State Fair each year in the Creative Arts Building at NM Expo, Albuquerque. The Juror for this year's exhibit was Meredith McPherson, assisted by Escribiente VP Trish Meyer. Below is our show from September 2016: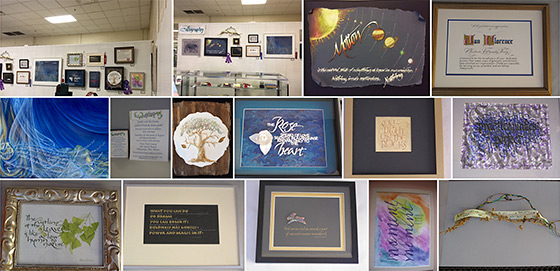 View Flickr slideshow of the Calligraphy exhibit at the 2016 New Mexico State Fair.
Escribiente Coloring Book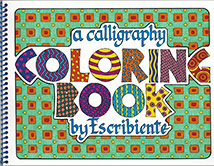 Members of Escribiente (Albuquerque's Calligraphy Society) designed a coloring book featuring each letter of the alphabet. Members graphically illustrated letters for the 8.5 X 11 inch pages which were then spiral bound into a book format. The range of techniques in the book includes calligraphy, lettering, floral design, drawing, and abstract designs.
Caryl McHarney, a multimedia artist, designed and colored the front cover. She used Bookhand and Neuland calligraphy styles for the lettering. 
A few copies remain for sale from the limited edition of 175 copies which were released in May 2016. The books are for sale for $10.00 each which includes shipping.
To purchase a copies, please contact Caryl McHarney at 505-255-7883
Email Caryl at:
Escribiente Mentor Program
Escribiente has a mentor program for new members. Our objective is to assist new members with calligraphy and the many things associated with it. This is not designed to teach a hand, but to assist with various techniques and questions such as:
How do you do that?
I want to do this – but where do I start?
What should I use ( i.e. ink, tool, paper)?
Guidelines?
I can't make that letter, what am I doing wrong?
Squash??? Well that is what it sounded like. (Gouache)
Can you do calligraphy on this?
And the many more questions that we all had when we were first starting out.
It will not all be on your shoulders, if you don't know the answer you can find out or refer them to another member that you think would know the answer. But the best thing that will happen is the possible friendship that may develop for you and Escribiente. This will make the new member gain confidence in their ability as a calligrapher and feel like one of us (experienced calligraphers anyway) much faster. I remember the excitement of looking at all the strange tools, the mystery of how do they make those pens make letters like that and many other questions.
If you are interested in becoming a Mentor or having a Mentor, contact Jan Florence: H 505-281-5771 (call first) - C 505-269-8867; email: