Past Meetings Archive
Below is a summary of the meetings held during the 2018–19 year.
During this series of program, the focus was on Pointy Tools. Monthly programs take place in two sessions from August through November, and from February through June.
January 11, 2020
Board Meeting
Board Meeting at Elizabeth McKee's house, Nob Hill, Albuquerque.
All members are welcome to our meetings!
December 8, 2019 @ 2pm
Member Holiday Party
Details and location are emailed to members. Spouses and partners are very welcome! Members bring an appetizer or desert, and Escribiente supplies the entree.
Optional: If you'd like to participate in the gift exchange, please bring a small calligraphic art-related item or original art.
November 6, 2019
Calligraphy with the #2 Pencil
with Patty Hammarstedt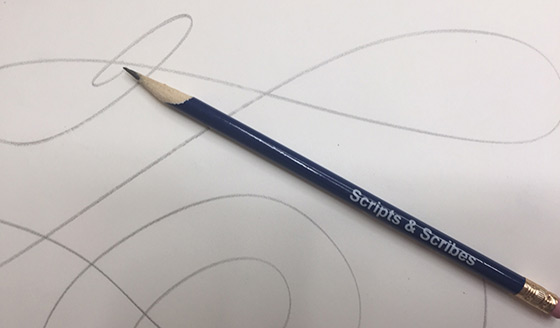 November's program is brought to you by the #2 pencil!
The ubiquitous # 2 pencil is an ideal pointed tool with which to practice and perfect flourishes as it can move freely across paper without 'drag'. And, for a growing number of calligraphers this is the preferred writing implement for their fine artwork.
In this program Patty Hammarstedt will demonstrate how to use flourishes to add emphasis and sophistication to calligraphic letter forms.  Members will learn the components of successful flourishes and simple practice techniques to help achieve successful flourishing. The holidays are fast approaching so why not add a bit of elegance to your holiday cards and letters!
You will need to bring:
A couple of Number 2 pencils
An eraser
A sharpener if you have one
A semi-transparent 'layout' tablet such as Borden & Riley #37 Boris Marker Layout or tracing paper tablet
Seat cushion (optional)
Patty Hammarstedt is a calligraphic artist and photographer whose work can be seen on her Facebook Artist Page (even if you don't have a Facebook account) and on her website.
October 2, 2019
Calligraphic Ornaments with a Pointed Pen
with Bill Kemp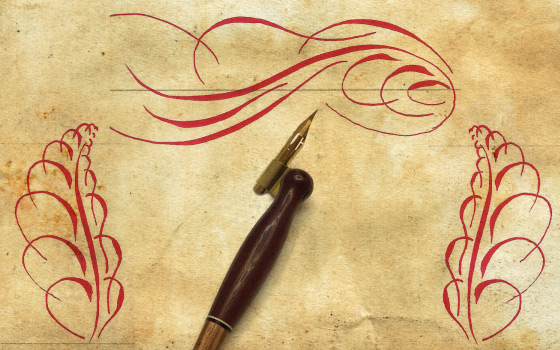 October's program is brought to you by the Pointed Pen!
Bill Kemp will show how to lay out traditional calligraphic ornamentation with a pencil and then demonstrate how to ink them in with a pointed pen. He will give some basic rules for ornament design and feather plumes. 
This should be good practice for those familiar with the pointed pen and informative to those who are just learning. Bill is a master penman and brings a wealth of knowledge and experience to this subject.
You will need to bring:
Pencil
Eraser
Sharpener
Tablet for taking notes
Pointed pen with a holder if you have one, plus ink
Seat cushion (optional)
September 4, 2019
Learn to Letter like a Sign Painter!
with Heather Martinez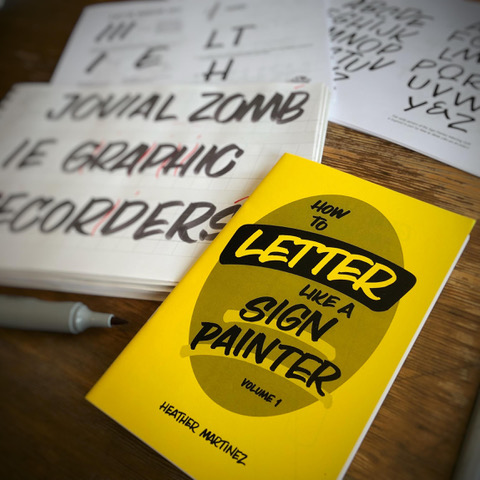 Explore another way to work with brush markers by making letters like a Sign Painter would! This program is for anyone wanting to letter better in this retro lettering style. Great for cards/envelopes, bistro menus, signage and more!
After studying with master sign painters, Heather Martinez has translated their techniques into brush markers, specifically the Neuland Art® marker.
The benefits of learning How to Letter like a Sign Painter include:
Helps improve control over the brush tip marker.
Offers variations to fit your individual style.
Easy to learn and use when wanting to write fast in a stylized way.
Come learn how to letter like a sign painter in this hands-on session. Supplies will be provided, including:
Practice sheets
The exemplar is in the form of a zine that you can take with you. 
In addition, members are granted access to the How to Letter like a Sign Painter online course ($35 value). (Coupon code will be emailed to all members so you can watch in advance. Note that no homework grading is included with free class!)
You will receive a 15% discount voucher if you choose to place a Neuland order.
This makes this hands-on, in-person class well worth the investment of time.
You'll be lettering like a sign painter in no time! (With markers that is.) Heather will also cover how the style can be used with other types of markers that you have on hand. So bring them!
Heather Martinez is the author of Lettering Journey. Designed with the visual practitioner in mind, Lettering Journey is a how-to, exemplar book inspired by a cross country road trip and the letters found along the way. This practical guide includes eight lettering styles that are designed to be learned quickly and used to letter with markers on paper. More info... 
Click here to buy the bundle – a color copy of Lettering Journey plus a set of Neuland markers.
Weds, August 7, 2019 @ 6:30pm
Show & Share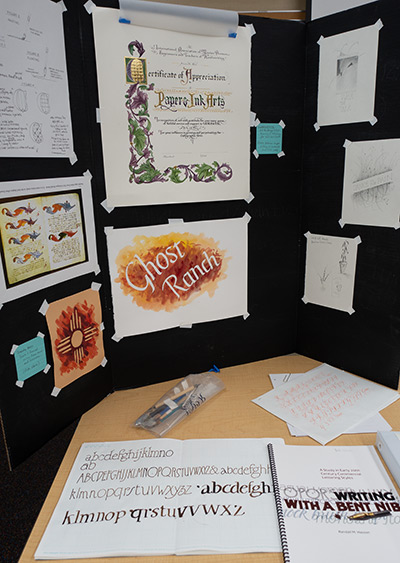 Members are encouraged to share their projects and recent workshops for this popular annual program. No supplies necessary. Pictured above: Beth House's display from Ghost Ranch 2019.
Our next newsletter will be released for the August meeting, along with our annual printed Membership Directory.
We will also have a fundraiser for the Pen Fund, which is allocated for the purchase of calligraphy markers and handouts so our members can offer a free introductory class to local schools. Trish Meyer & Meredith McPherson are donating a scroll created for the recent Art of Haiku exhibit which will be raffled off to a lucky winner. Tickets $5, cash only. [Thank you to all who contributed; we raised $175 for the Pen Fund!]
NM State Fair: Note that the entry deadline is earlier this year: Monday, August 19 & Tuesday, August 20. See Exhibits page for details.
Mark your Calendar! The fall workshop will be pointed pen with Lee Ann Clark on November 2–3, 2019. Registration opens at our September 4 meeting. More details on Workshops page.