Meetings
Members and guests of Escribiente meet the first Wednesday of the month at 6:30pm. (No meetings are held in January, July and December, unless noted.)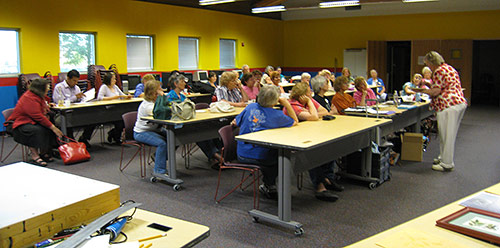 We feature an informative program for all levels of calligraphy at each meeting, including speakers, hands on projects, social time to meet other calligraphers, and generally a good learning atmosphere. Everyone with an interest in creating beautiful letters is welcome!
Calendar
Meet and mingle with local Escribiente calligraphers at our free monthly meetings. Guests welcome. Please note that these programs may be subject to change. (Members receive email reminders one week beforehand.)
Programs 2017–2018
To guide us, and better serve our members, the Programs and Workshops Committees chairpersons (Patty Hammarstedt and Beth McKee) have developed a Mission Statement:
"Our mission is to ENCOURAGE the study and practice of Calligraphy as a craft and art form, to FACILITATE individual excellence, and to CULTIVATE understanding and appreciation of its history through conduction of sponsored programs, workshops and activities that EDUCATE, INFORM and INSPIRE through instruction as well as free interchange of ideas and techniques.
"With that in mind, the committees have put together a 'themed' year focusing on Bookhand/Foundational. The 2017-18 Programs and Workshops will attempt to encourage enjoyment and experimentation using this upright alphabet with a 30 degree pen angle devised by master penman and typographer Edward Johnston in the early 20th century.
We will gently weave Bookhand/Foundational into each program and workshop. It won't be boring! We plan to make the year cohesive, but also lots of fun drawing flourishes in the air, penciling monoline forms, penning basic Bookhand/Foundational, stretching our letters with 'big & tiny & short & tall', writing on cloth, creating a Bookhand book, and pressurizing pointed pen versions!" 
Join us for a fun year of exploring! – Patty & Beth
Wednesday,

September 6, 2017, 6:30pm (social time 6pm)
Monoline Maxim
Presented by Patty Hammarstedt
As we kick off a year of Bookhand/Foundational exploration, this month's Program Meeting will begin with writing their pure proportions and shapes. Reviewing these elegant and dramatic letterform skeletons using monoline tools, we will set the course toward stronger and livelier writing to use with the broad edged pen. To keep it all fun, we will also set up a table of a variety of 'crazy' monoline tools to 'let loose' and experiment with.
Download Foundational Supply Kit PDF
Please also bring:  One or two Pigma Micron pointed tip markers (02 or 03 or 05 thickness, a pad of grid paper that takes these markers well and doesn't bleed and a mechanical pencil.
Wednesday,

October 4, 2017, 6:30pm (social time 6pm)
Thirty Degrees in Ink
Presented by Patty Hammarstedt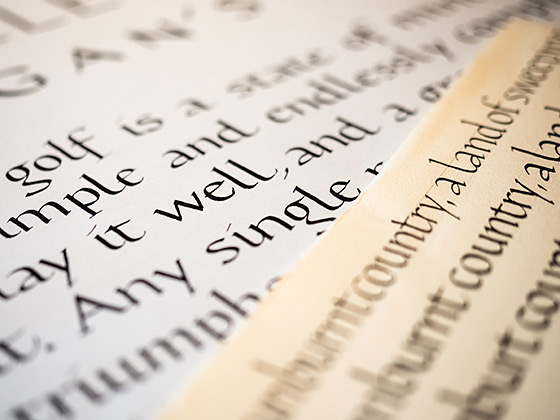 This month's Program will delve deeper into Bookhand/Foundational with pen and ink exploration. While viewing an exemplar handout, members will be lead through the lower case alphabet with attention to the 30-degree pen angle, vertical slope, ductus of letter formation, serifs, and spacing as time allows. There will be plenty of examples on hand for more experienced members to glean inspiration from.
Download Foundational Supply Kit PDF
Supplies to bring:  A couple of large broad-edged nibs (Speedball C1 or C2 or Mitchel or Brause equivalents), non-waterproof ink (Higgins Eternal is a good one), pad of grid paper