Meetings
Members and guests of Escribiente meet the first Wednesday of the month at 6:30pm. (No meetings are held in January, July and December, unless noted.)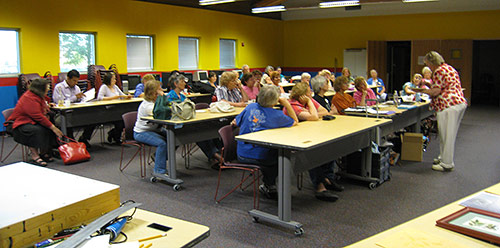 We feature an informative program for all levels of calligraphy at each meeting, including speakers, hands on projects, social time to meet other calligraphers, and generally a good learning atmosphere. Everyone with an interest in creating beautiful letters is welcome!
Calendar
Meet and mingle with local Escribiente calligraphers at our free monthly meetings. Guests welcome. Please note that these programs may be subject to change, but they will give you something to look forward to and see how hard our program directors are working to bring you exciting and informational programs!
Wednesday, June 7, 2017, 6:30pm
Pointed Pen Nibs
Presented by Bill Kemp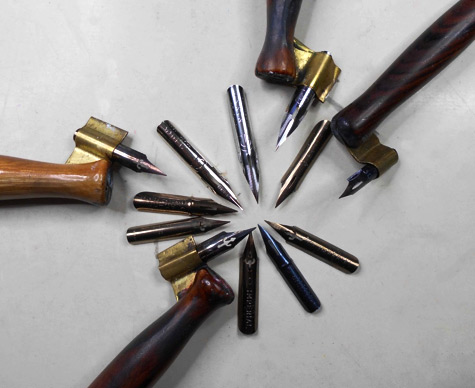 There are so many different pointed pen nibs on the market, which one should I use?
Have you ever asked this question to yourself as you look for the right pointed pen nib to use? Unlike broad-edged nibs (of which there are about seven different types, according to Paper and Ink Arts), pointed pens nibs start at 25 different types! Plus there are even more types when you start counting the vintage nibs available.
So what is the difference and how can you select the right one for your needs?
At our June meeting, Bill Kemp will try to break that mystery! Bill will have eight different nibs on hand for you to try. During his demonstration he will:
reveal where using one nib over the other will help you to achieve different effects
show how some nibs are flexible while others are very stiff
discuss where one would be more acceptable to use over another
explain why one nib is preferred by some with a light touch in writing and another for those with a heavier touch
Hopefully Bill will be able to answer your questions and provide information for you to select the pointed pen nib that will work for you.
What to bring:
An oblique or a straight pen holder for you to try the various nibs in (or just use the display nib that is already fitted to the pen holder)
Paper and ink will be provided at the meeting.
Election of Officers for the 2017–18 year will be conducted at the June meeting. Please bring your dues! See our Membership page for details.
*** Saturday, June 17, 2017 ***
Committee & Board Meetings
Location: Beth McKee's house, Nob Hill.
Members are invited to the bi-annual Board Meeting for the upcoming 2017–2018 year. (This replaces the meeting normally held in July.)
11am: Programs & Workshops committee planning meeting – we welcome your ideas!
<break for lunch>
2pm: Board Meeting – open to all members.
Wednesday,

July 5, 2017, 6:30pm
Calligraphy Box Project
Presented by Trish Meyer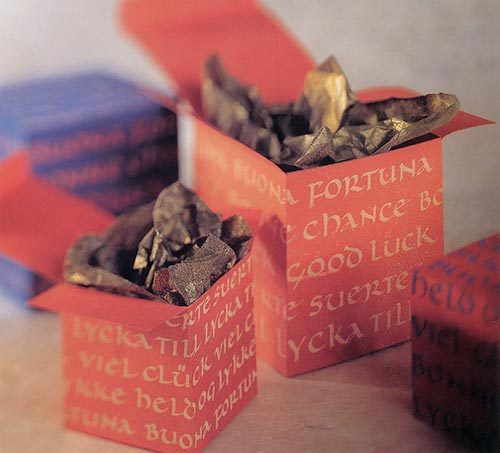 Handmade boxes bearing small gifts are a pleasure to make and to receive.
Our final program of the 2016-17 year will based on a project from the book Beginner's Guide to Calligraphy by Janet Mahigan and Mary Noble. You will letter on cardstock (provided) based on a template, then cut out the template and fold to make a 2.5" square box.
While Uncial is used in the book (see pic above), note that ANY hand may be used. If you took the Blackletter/Fraktur workshop with Yukimi Annand, you can practice what you've learned! If not, Neuland or Italic or pointed pen would also look great – your choice!
The following will be provided:
The box we will be making will be 2.5" square, so bring a few nib size choices to try out.
Kraft (tan) colored cardstock will be provided for your first box, so you can test out ideas.
Red colored cardstock will be provided for your final box (which you can do at home).
You will need to bring:
Nib & holder for the style you plan to use
Ink or gouache (pick any color that you feel will work well on bright red paper)
Scissors to cut out the template
(Optional) Punch for making rounded corner (or cut around the curve)
Apron, water container and towel to clean your nib etc.
Plastic sheet or newsprint to protect your table from spills would be appreciated.
Mark your Calendar – Summer Schedule changes!
Manzano Mesa will be closed for cleaning for our scheduled August meeting, so we voted to move the August meeting to July 5 instead of a bored meeting (sic!). Dates for the Board Meeting will be announced.
Summer Potluck
The August meeting will be replaced with a Summer Potluck on Saturday, August 5 at noon, at Trish Meyer's house in the East Mountains. In addition to yummy food, we encourage you to share your work from recent conferences as well as bring your ideas for next year's programs!
Upcoming programs in the works:
The History of the Written Form, with Patty Hammarstedt
Gold & Silver on Black paper sampler
Masking and resist techniques
Decorated Lettering techniques