Meetings
Members and guests of Escribiente meet the first Wednesday of the month at 6:30pm. (No meetings are held in January, July and December, unless noted.)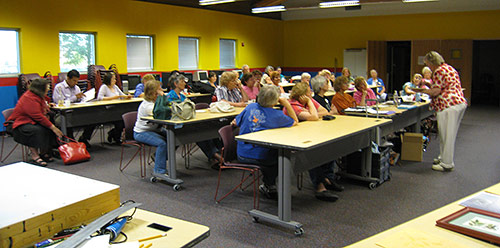 We feature an informative program for all levels of calligraphy at each meeting, including speakers, hands on projects, social time to meet other calligraphers, and generally a good learning atmosphere. Everyone with an interest in creating beautiful letters is welcome!
Calendar
Upcoming Programs 2018 – 2019
The 2018-19 Programs and Workshops will encourage enjoyment and experimentation around the theme of CAPITALS. Our two workshops will be with Joke Boudens in November 2018, and Annie Cicale in April 2019. Join us for a fun year of exploring! – Patty & Elizabeth
Meet and mingle with local Escribiente calligraphers at our monthly meetings. Guests are welcome. Please note that these programs may be subject to change. (Members receive email reminders one week beforehand, and new members are encouraged to meet earlier for Q&A in the lobby.)
Wednesday, May 1, 2019, 6:30pm
(social time 6pm)
Brush Written Roman Capitals: Grand Letterforms
Presented by Randall Hasson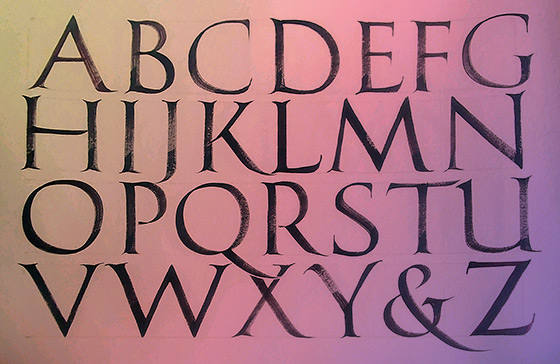 Randall Hasson will demo brush handling and manipulation necessary for creating sumptuous large Trajan Roman capital letterforms – the 'king' of them all. Members will have an opportunity to write very large brush forms, adding new techniques to their calligraphic repertoire. Don't miss this opportunity for experimentation!
Note: Paper will be provided by Escribiente.
Supplies to Bring:
Ink or gouache for writing
1/2" flat brush (Winsor & Newton 995 series is a good choice; available at Blick also)
for less expensive brush, see Simply Simmons Flat Shader #12 (rec. by Eliza Holliday)
Flat, small bowl (preferably ceramic vs plastic or foil), for 'paletting' your inked brush
An apron or 'cover-up'
seat cushion (for added height)
Wednesday, June 5, 2019, 6:30pm
(Q&A in lobby 5pm; social time 6pm)
CREATIVITY: Where do ideas come from?
Presented by Fred Yost
The work of an artist, especially, should be creative not repetitive. Creativity, the most intangible of human qualities, is suppressed by our living within artificial constraints and with a developed fear of disappointment and failure. The probability of successful artistic efforts can be increased through an understanding of the Creative Process.
In this presentation Fred Yost will show beautiful works by famous artists (and not so famous artists) as well as his own attempts at producing works that differ markedly from paintings found in the typical art show. Come and be inspired!
No supplies are needed for this program.
Membership dues are up for renewal in June. Please renew your dues in a timely manner so that your contact information can be included in our annual directory!
Wednesday, July 3, 2019, 6:30pm
Board Meeting
Board meetings are held in July and January at the usual meeting location (see info, top right). All members are welcome to attend.
Note: Our 2019–2020 series of programs will be centered around the theme of pointed brush & pointed pen.