Meetings
Members and guests of Escribiente meet the first Wednesday of the month at 6:30pm. (No meetings are held in January, July and December, unless noted.)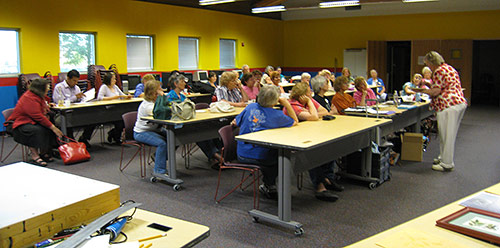 We feature an informative program for all levels of calligraphy at each meeting, including speakers, hands on projects, social time to meet other calligraphers, and generally a good learning atmosphere. Everyone with an interest in creating beautiful letters is welcome!
Calendar
Meet and mingle with local Escribiente calligraphers at our free monthly meetings. Guests welcome. Please note that these programs may be subject to change. (Members receive email reminders one week beforehand.)
Dues for the 2017-18 year are due June 1. Deadline to be included in the printed Directory is July 1st. See our Membership page for details.
Wednesday,

July 5, 2017, 6:30pm
Frenetic Flourishing
Presented by Elizabeth McKee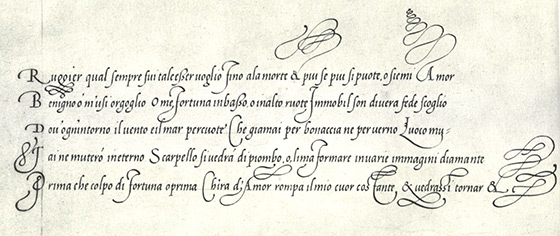 Exemplar from the Cataneo Manuscript.
Flourishes are the non-structural embellishments added to letters. They are the marks made by calligraphers to add some zing to a page of lettering. The name comes from the same root as the word "flower." Done well they can enhance a piece of calligraphy. Done poorly, they can kill it. Come and learn the principles of a good flourish!
While referring to handout examples, members will simultaneously practice a set of flourishes – first in the air by making large movements using the upper body and shoulder rotations, then by mark-making on large sheets of paper with a pencil and felt-tipped markers.
We will learn to: Look. Practice. Memorize. Repeat.
After the initial group practice participants will be encouraged to take off and fly on their own!
Paper will be provided.
You will need to bring:
sharpened pencils (colored might make it more interesting but plain lead pencils are fine)
one or two felt-tipped markers
a pair of scissors
masking tape
Mark your Calendar – Summer Schedule changes!
Manzano Mesa will be closed for cleaning for our scheduled August meeting, so we voted to move the August meeting to July 5 instead of a bored meeting (sic!). The Board meeting will be held on June 17th.
Summer Potluck
The August meeting will be replaced with a Summer Potluck on Saturday, August 5 at noon, at Trish Meyer's house in the East Mountains. In addition to yummy food, we encourage you to share your work from recent conferences as well as bring your ideas for next year's programs!
Upcoming programs:
Patty Hammarsted will be the new Program Committee Chair and she is planning a wonderful year of programs. More details to come shortly.