Meetings Archive 2023–2024
Below is a summary of the meetings held during this year.
Programs will be added to our public YouTube channel when possible. Members receive private links to ALL our replay videos.
Program: November 1, 2023
A Book, a Tool, and a Technique
Presentation by Cora Pearl
During most calligraphy workshops, inevitably certain questions get asked, such as, What kind of brush is that? What kind of paper are you using? and Can you write down the name of that book you just mentioned?
The answers to these questions often lead to sharing of purchasing resources, and additional similar books and tools. Sometimes there isn't enough time to share every variation and technique being taught in a workshop, even though there is great interest from students. This presentation will highlight a handful of those juicy bits of knowledge and resources as the featured elements all on their own. In this presentation, Cora Pearl will share a book, a tool, and a technique to enhance and add to your art making repertoire.
Cora will be teaching Hand Lettering with the Folded Pen workshop for Escribiente in March 2024. More details on our Workshops page.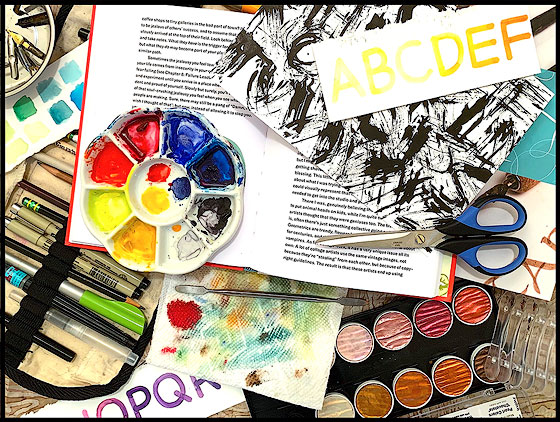 Cora Pearl started studying calligraphy at age 11 and has been doing calligraphy and hand lettering ever since. She has a BA in Art and Art History from Oberlin College. Cora works as a full-time calligrapher and teacher of lettering arts—she teaches full credit calligraphy and hand lettering courses in the art department at Portland Community College, and teaches independent workshops, classes, and private sessions, both in person and online. Cora has taught almost 2000 hours on Zoom since the beginning of the pandemic.
Program: October 4, 2023
Cut Letters and Two Ways to Emboss
Presentation by Elizabeth McKee
In 2010 Elizabeth made a book with letters cut from paper. About halfway through the process she realized that with a bit of double-sided tape she could have made two books at the same time if she had only planned it well and saved the negative space from the first book. In 2013 she figured out how to make two books this way.
Recently it was pointed out to her that her method could also be used for embossing and debossing.
For years she had happily been embossing using matt board.
There are many ways to emboss and deboss. This is a hands-on program demonstrating the two different methods that Elizbeth uses.
A supply list was sent to Escribiente members.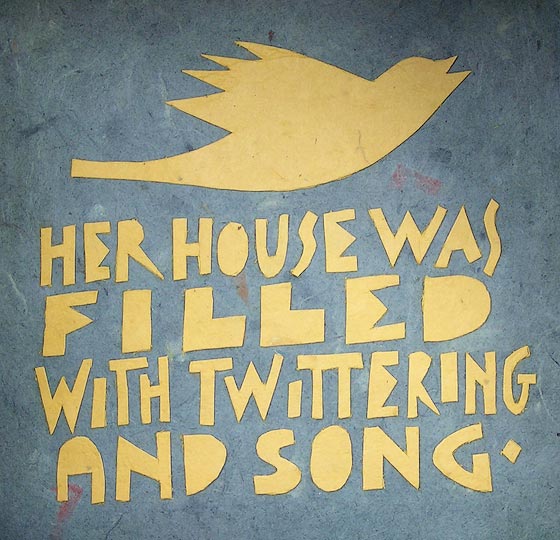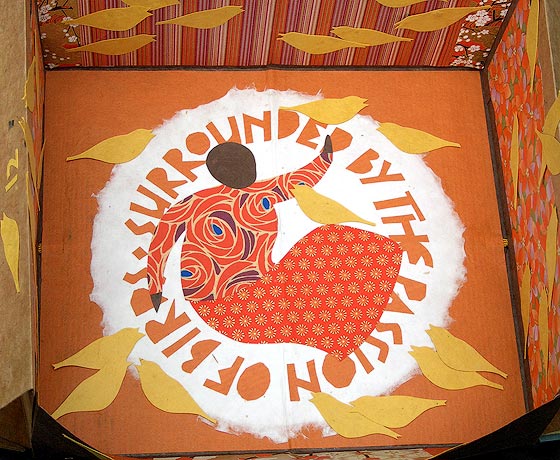 Elizabeth McKee's nomad's life has carried her from New Guinea to Australia, Iowa, Japan, Zambia, Canada, Malaysia, Florida, Bangladesh, Kenya, Uganda, Maryland, Russia and Albuquerque. She moved to Albuquerque in 2015. She discovered calligraphy in Japan in 1970. Was happy to rediscover it in English in 1980. In 1984, she helped establish the Calligraphy Society of Ottawa. In 1987, Elizabeth became a Portfolio Member of the Colleagues of Calligraphy in Minnesota. She received an intensive education in color theory while running a marbling studio in Nairobi, Kenya from 1994 to 1998. Her work has been widely published (including in Letter Arts Review and Bound and Lettered magazines), and her books are included in the collections of the National Museum of Women in the Arts, Harvard's Houghton Library, the Bainbridge Island Museum of Art as well as in private collections around the world.
September 6, 2023
Kemp's Script Workshop Preview
Presented by Bill Kemp
Download Workshop Preview PDF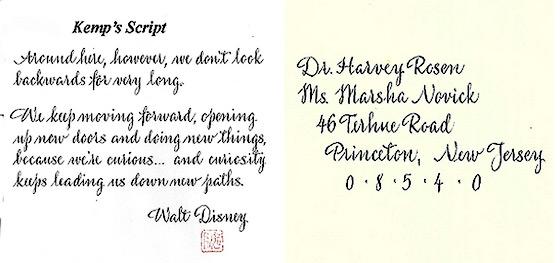 Kemp's Script, a pointed pen style developed by Master Calligrapher, Bill Kemp, will be presented in a two-day, in-person Escribiente workshop on November 11–12, 2023.
Bill developed this script when a client gave him just an invitation card for a wedding, and there were only the names of the bride and groom in that font. All the lettering on the invitation was in lower case, with no capitals (only twelve letters to work with). After much research, Bill found a similar font and from that he developed a pointed pen version to fit the clients' needs. He had to address envelopes and place cards for the wedding to make them look very similar to the invitation.
Bill has since used this script to write several poems and short quotes over the years and now wants to share it with others. It is a very vertical script and can be written with an oblique or straight penholder.