Meetings
Members and guests of Escribiente meet the first Wednesday of the month at 6:30pm. (No meetings are held in January, July and December, unless noted.)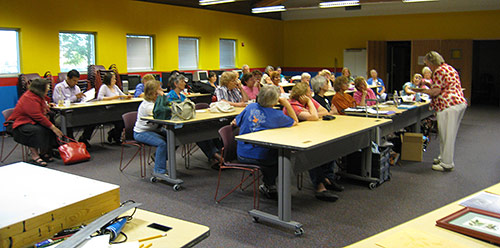 We feature an informative program for all levels of calligraphy at each meeting, including speakers, hands on projects, social time to meet other calligraphers, and generally a good learning atmosphere. Everyone with an interest in creating beautiful letters is welcome!
Calendar
Upcoming Programs
The 2020–21 Programs and Workshops will encourage enjoyment and experimentation around the theme of calligraphy as art. – Elizabeth McKee & Janice Gable
Due to COVID-19 health concerns, Escribiente will be hosting online programs and workshops until further notice. We will miss meeting in person, but our members from out-of-town can now enjoy our programming and it is easier to have guest artists too! Please note that these programs may be subject to change. Members receive email reminders one week beforehand.
Members receive email notices for all programs and workshops.
Wednesday, August 5, 2020 @ 6:15 –  8:30pm
The Value of Palimpsest
Online Presentation by Heather Martinez
Zoom meeting info will be emailed to current members. Please log in at 6:15pm.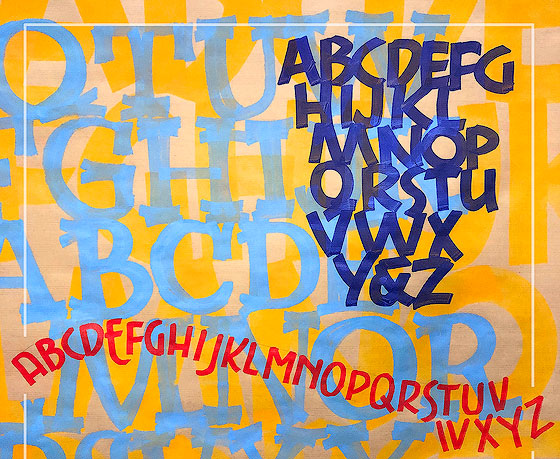 Bring beauty to your lettering practice—create a modern day Palimpsest!
This is a modern way of practicing your lettering based on a 6th century discovery. You can work at any size and you will want to save your pages to reuse for making envelopes, collages or books.
Palimpsest is a manuscript in which the original writing has been effaced to make room for later writing but of which traces remain. View historical examples on Wikipedia.
Heather Leavitt Martinez is a visual practitioner, art coach and lettering artist living in Durango, Colorado. Heather believes that what we write on the wall is more than mere handwriting—letters are the building blocks of communication. Heather's graphic recording work has been featured in Letter Arts Review where she was named an Amanuensis to master calligrapher Mike Gold. A peak-career experience that bridges the gap between art and being a visual practitioner.
To see how Heather has been using lettering and palimpsests in her recent work, check out the video from a Durango local news channel: Finding Peace Practicing Your ABCs
Supply List
We recommend having a variety of tools and inks on hand including:
1 light, 1 medium, and 1 dark ink or paint that dries quickly and layers well
Paper of any type - what you would typically practice on.
Sketchbook and small mark-making tools to take notes and make thumbnail sketches of possible layouts.
Heather will be using markers to show a variety of styles and compositions quickly for demonstration.
You will want to have 1–3 lettering styles to practice as we go through the exercises. Consider using different hands or tools to add contrast to the composition. For example, have a lettering style in each: broad edge, brush and monoline. Or to simplify, practice one lettering style using three mark-making tools of different sizes.
Wednesday, September 2, 2020 @ 6:15 –  8:30pm
Blind Contour Alphabet Book
Online Presentation by Michal Sommers
Zoom meeting info will be emailed to current members. Please log in at 6:15pm.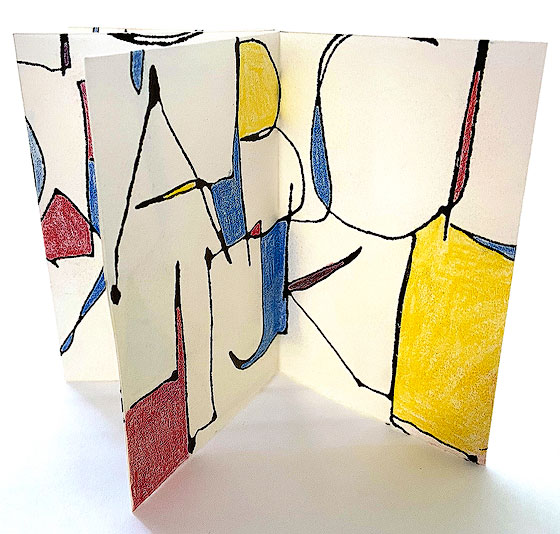 Apply a fundamental drawing process to your calligraphy practice in this playful session. Every result is unique and surprising as we embrace seeing letters without looking at the paper. Directions for making a book from one sheet of paper will be an option for you to explore.
Michal Sommers is an Escribiente member, artist, educator, designer, and life-long learner. She temporarily moved from the east coast to New Mexico for graduate school in 1990. Her website is on her 'to do' list.
Supply List
Paper — Arches Text Wove is recommended, but any paper, any size will work. Try both smaller and larger selections. Options: charcoal, Canson Mi-Tientes, kraft paper, layout paper, paste paper, mixed media paper
Needle-tip bottle with Sumi ink, or Stabilo Pen 68 or Point 88 Fineliner Pen, Neuland markers or any other favorite pens or markers
Scissors
Protective covering for your workspace
Optional
your favorite exemplars or calligraphy book with example alphabets
spray bottle with water (something that can be set to mist)
colored pencils, pastels, or paints
bone folder or butter knife
glue stick or double-stick tape
Wednesday, October 7, 2020 @ 6:15 –  8:30pm
Calligraphy is Flourishing: More Than Your Might Guess
Online Presentation by Mike Gold
Zoom meeting info will be emailed to current members. Please log in at 6:15pm.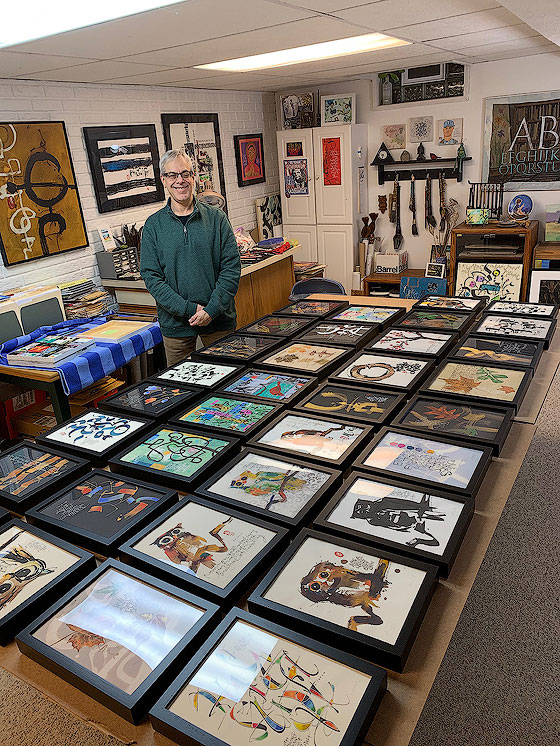 Join us as Mike Gold shows us how the spirit of calligraphy is alive and flourishing in many ways and with many artists. This image rich presentation will leave you wanting to see it all again. (Click above image for larger version.)
The calligraphic impulse is alive today not only in traditional calligraphy circles, but also in the work of artists creating work not always thought of as calligraphy: graffiti artists, painters of all kinds, commercial hand-lettering artists, among others.
The presentation builds on two recent articles Mike authored for Letter Arts Review. The lecture was first presented as part of the 2018 international calligraphy conference in Seattle, Washington. It was also presented the following year in Portland, Oregon and has been updated for the presentation this October in Albuquerque via Zoom.