Meetings
Members and guests of Escribiente meet the first Wednesday of the month at 6:30pm. (No meetings are held in January, July and December, unless noted.)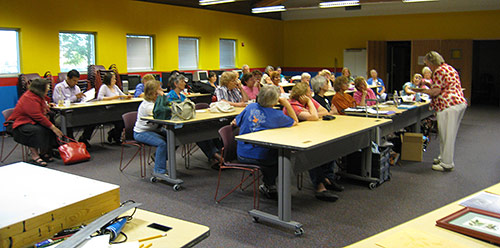 We feature an informative program for all levels of calligraphy at each meeting, including speakers, hands on projects, social time to meet other calligraphers, and generally a good learning atmosphere. Everyone with an interest in creating beautiful letters is welcome!
Calendar
Upcoming Programs 2019 – 2020
The 2019–20 Programs and Workshops will encourage enjoyment and experimentation around the theme of "Pointy Tools"! Our two workshops will be with Lee Ann Clark in November 2019, and Mike Gold in April 2020. – Elizabeth McKee & Janice Gable
Meet and mingle with local Escribiente calligraphers at our monthly meetings. Guests are welcome. Please note that these programs may be subject to change. (Members receive email reminders one week beforehand, and new members are encouraged to meet earlier for Q&A in the lobby.)
NM State Fair: Note that the entry deadline is Monday, August 19 & Tuesday, August 20. See Exhibits page for details.
Mark your Calendar! The fall workshop will be pointed pen with Lee Ann Clark on November 2–3, 2019. Registration opens at our September 4 meeting. More details on Workshops page.
Weds, September 4, 2019 @ 6:30pm
(Q&A in lobby 5pm; social time 6pm)
Learn to Letter like a Sign Painter!
with Heather Martinez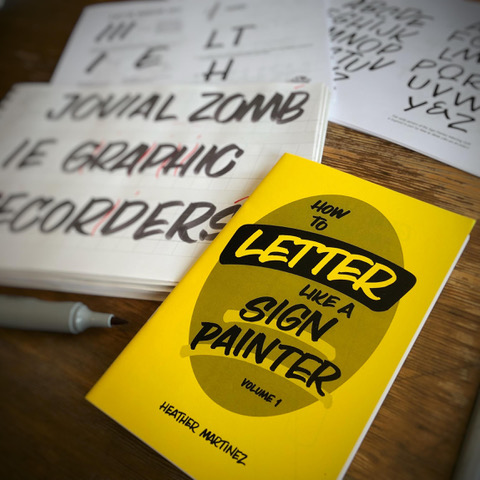 Explore another way to work with brush markers by making letters like a Sign Painter would! This program is for anyone wanting to letter better in this retro lettering style. Great for cards/envelopes, bistro menus, signage and more!
After studying with master sign painters, Heather Martinez has translated their techniques into brush markers, specifically the Neuland Art® marker.
The benefits of learning How to Letter like a Sign Painter include:
Helps improve control over the brush tip marker.
Offers variations to fit your individual style.
Easy to learn and use when wanting to write fast in a stylized way.
Come learn how to letter like a sign painter in this hands-on session. Supplies will be provided, including:
Practice sheets
The exemplar is in the form of a zine that you can take with you. 
In addition, members are granted access to the How to Letter like a Sign Painter online course ($35 value). (Coupon code will be emailed to all members so you can watch in advance. Note that no homework grading is included with free class!)
You will receive a 15% discount voucher if you choose to place a Neuland order.
This makes this hands-on, in-person class well worth the investment of time.
You'll be lettering like a sign painter in no time! (With markers that is.) Heather will also cover how the style can be used with other types of markers that you have on hand. So bring them!
Heather Martinez is the author of Lettering Journey. Designed with the visual practitioner in mind, Lettering Journey is a how-to, exemplar book inspired by a cross country road trip and the letters found along the way. This practical guide includes eight lettering styles that are designed to be learned quickly and used to letter with markers on paper. More info... 
Click here to buy the bundle – a color copy of Lettering Journey plus a set of Neuland markers.