Meetings
Members and guests of Escribiente meet the first Wednesday of the month at 6:30pm. (No meetings are held in January, July and December, unless noted.)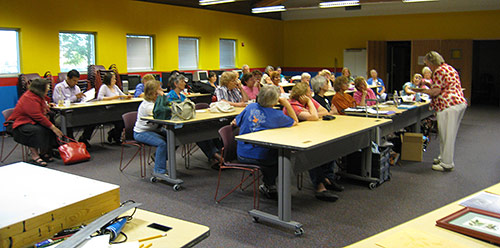 We feature an informative program for all levels of calligraphy at each meeting, including speakers, hands on projects, social time to meet other calligraphers, and generally a good learning atmosphere. Everyone with an interest in creating beautiful letters is welcome!
Calendar
Upcoming Programs
The 2019–20 Programs and Workshops will encourage enjoyment and experimentation around the theme of "Pointy Tools"! Our two workshops will be with Lee Ann Clark in November 2019, and Mike Gold in April 2020. – Elizabeth McKee & Janice Gable
Meet and mingle with local Escribiente calligraphers at our monthly meetings. Guests are welcome. Please note that these programs may be subject to change. Members receive email reminders one week beforehand, and new members are encouraged to meet earlier for Q&A in the lobby directly outside the classroom (not the main lobby area).
Wednesday, April 1, 2020
**** APRIL MEETING CANCELLED.
The health and safety of our members is of the utmost importance, and we are following the advice to limit community meetings due to the health emergency from COVID-19. We are therefore cancelling the April meeting.
We will keep in touch with our members via email regarding future meetings.
Wednesday, May 6, 2020 @ 6:30pm * TBC *
Social time: 6pm. Q&A in the lobby outside classroom @ 5:30pm.
Calligraphy: How I Fell In, Out, and In Love Again
Presented by Susan Kapuscinski Gaylord
May's program will be a special presentation from a visiting guest artist
Susan Gaylord will present a talk about her forty-year relationship with calligraphy from her beginning days, through her shift to book arts, and then her return to words and letters with a more open spirit. She will share what she has learned from books, teachers, and experience about the art process, Zen philosophy, patience, and struggles with self-doubt. Susan encourages her audience to think about their own creative endeavors and find their own stories.
To learn more about Susan and view her art, visit her website.
Wednesday, June 3, 2020 @ 6:30pm
Social time: 6pm. Q&A in the lobby outside classroom @ 5:30pm.
Needle-tip Bottle Play
Presented by Elizabeth McKee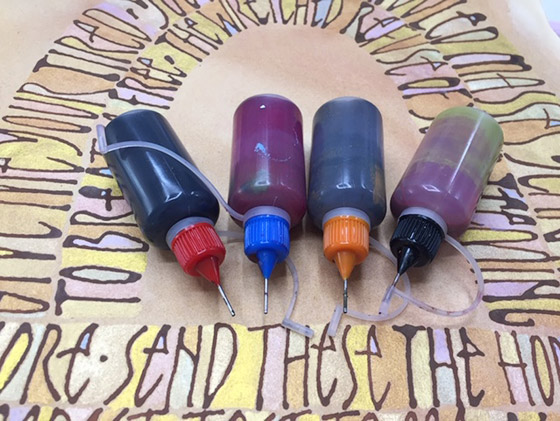 June's program will feature the needle tip bottle
The needle tip bottle has a multitude of applications and of course calligraphers have added it to their tool kits. This is the last program of the year. Come prepared to play!
Elizabeth McKee was first introduced to calligraphy while teaching English in Japan in 1970. She abandoned the brush when she discovered occidental calligraphy in 1980 but in the last few years has decided to concentrate her calligraphic efforts on brush work. Her work can be seen on her website https://www.60by62.com/
You will need to bring:
A pad of paper has some tooth.
An apron
Paper towels or a couple rags
Colored pencils
Masking tape.
A cushion or two to boost your seat.
Pencil for taking notes
A cushion or two to boost your seat.