Meetings
Members and guests of Escribiente meet the first Wednesday of the month at 6:30pm. (No meetings are held in January, July and December, unless noted.)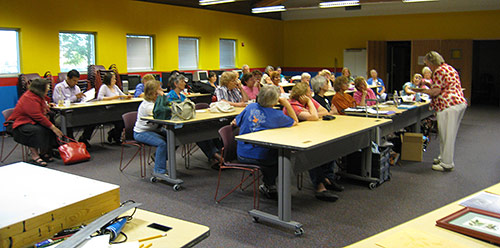 We feature an informative program for all levels of calligraphy at each meeting, including speakers, hands on projects, social time to meet other calligraphers, and generally a good learning atmosphere. Everyone with an interest in creating beautiful letters is welcome!
Calendar
Upcoming Programs 2019 – 2020
The 2019–20 Programs and Workshops will encourage enjoyment and experimentation around the theme of "Pointy Tools"! Our two workshops will be with Lee Ann Clark in November 2019, and Mike Gold in April 2020. – Elizabeth McKee & Janice Gable
Meet and mingle with local Escribiente calligraphers at our monthly meetings. Guests are welcome. Please note that these programs may be subject to change. (Members receive email reminders one week beforehand, and new members are encouraged to meet earlier for Q&A in the lobby.)
Weds, August 7, 2019 @ 6:30pm
Show & Share
plus meet & greet for our new members
Members are encouraged to share their projects and recent workshops for this popular annual program. No supplies necessary.
Our next newsletter will be released for the August meeting, along with our annual printed Membership Directory.
We will also have a fundraiser for the Pen Fund, which is allocated for the purchase of calligraphy markers and handouts so our members can offer a free introductory class to local schools. Trish Meyer & Meredith McPherson are donating a scroll created for the recent Art of Haiku exhibit which will be raffled off to a lucky winner. Tickets are $5, cash only.
For new members, Trish's next Calligraphy 101 class for beginners will be held on August 31. Elizabeth McKee is teaching Writing Romans over six Saturdays. See Classes page.
Note: Our 2019–2020 series of programs will be centered around the theme of "pointy tools". Monthly programs take place in two sessions from August through November, and from February through June.
Membership dues come up for renewal in June. If you haven't renewed yet, please bring your $30 check to the August meeting.
NM State Fair: Note that the entry deadline is earlier this year: Monday, August 19 & Tuesday, August 20. See Exhibits page for details.
Mark your Calendar! The fall workshop will be pointed pen with Lee Ann Clark on November 2–3, 2019. Registration opens at our September 4 meeting.