Meetings
Members and guests of Escribiente meet the first Wednesday of the month at 6:30pm. (No meetings are held in January, July and December, unless noted.)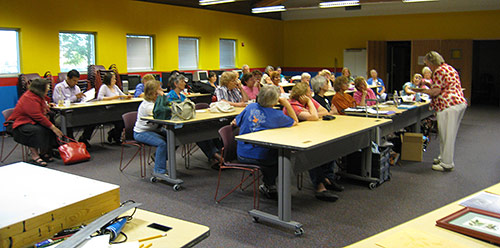 We feature an informative program for all levels of calligraphy at each meeting, including speakers, hands on projects, social time to meet other calligraphers, and generally a good learning atmosphere. Everyone with an interest in creating beautiful letters is welcome!
Calendar
Upcoming Programs 2019 – 2020
The 2019–20 Programs and Workshops will encourage enjoyment and experimentation around the theme of "Pointy Tools"! Our two workshops will be with Lee Ann Clark in November 2019, and Mike Gold in April 2020. – Elizabeth McKee & Janice Gable
Meet and mingle with local Escribiente calligraphers at our monthly meetings. Guests are welcome. Please note that these programs may be subject to change. (Members receive email reminders one week beforehand, and new members are encouraged to meet earlier for Q&A in the lobby.)
Weds, November 6, 2019 @ 6:30pm
(Q&A in lobby 5:30pm; social time 6pm)
Calligraphy with the #2 Pencil
with Patty Hammarstedt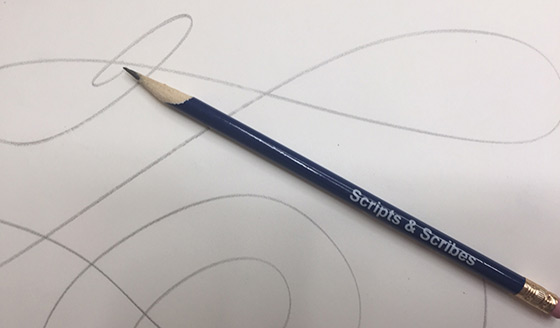 November's program is brought to you by the #2 pencil!
The ubiquitous # 2 pencil is an ideal pointed tool with which to practice and perfect flourishes as it can move freely across paper without 'drag'. And, for a growing number of calligraphers this is the preferred writing implement for their fine artwork.
In this program Patty Hammarstedt will demonstrate how to use flourishes to add emphasis and sophistication to calligraphic letter forms.  Members will learn the components of successful flourishes and simple practice techniques to help achieve successful flourishing. The holidays are fast approaching so why not add a bit of elegance to your holiday cards and letters!
You will need to bring:
A couple of Number 2 pencils
An eraser
A sharpener if you have one
A semi-transparent 'layout' tablet such as Borden & Riley #37 Boris Marker Layout or tracing paper tablet
Seat cushion (optional)
Patty Hammarstedt is a calligraphic artist and photographer whose work can be seen on her Facebook Artist Page (even if you don't have a Facebook account) and on her website.