Welcome to Escribiente
Meetings are held on the first Wednesday of the month, and we welcome guests and members of the public who have an interest in learning more abut the fine art of beautiful writing. Please see our Meetings page for full details and directions and download our Newsletters for reviews and photos from our workshops and programs.
WORKSHOP with Mike Gold – August 29–30, 2020
We have rescheduled our April workshop for the last weekend in August 2020 as an online Zoom workshop. Registration information was emailed to all members. Open to current members so don't forget to renew your 2020–21 membership – now only $20!
Wednesday, August 5, 2020 @ 6:15 –  8:30pm
The Value of Palimpsest
Online Presentation by Heather Martinez
Zoom meeting info will be emailed to current members. Please log in at 6:15pm.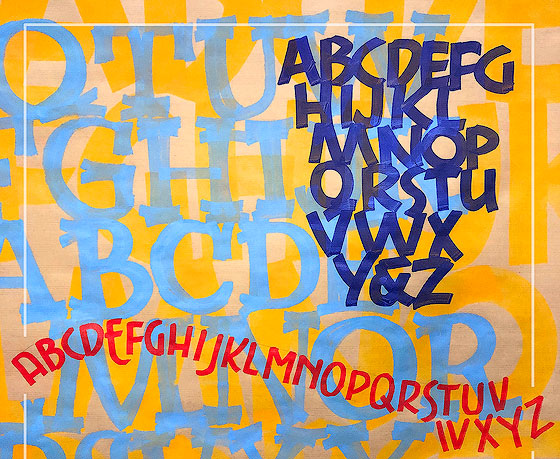 Bring beauty to your lettering practice—create a modern day Palimpsest!
This is a modern way of practicing your lettering based on a 6th century discovery. You can work at any size and you will want to save your pages to reuse for making envelopes, collages or books. More info and supply list...
Latest Newsletter
Back issues are available for download on our Newsletter page.
2020-1 (March)
Download Screen Resolution PDF (3MB), or click Cover image (right)
Download Print Resolution PDF (11MB)
Thank you to Lynda Lawrence, our new Newsletter Editor, for taking over from Julie!
Valentines for Meals on Wheels
Show at the Taylor Ranch Library
St Marks Sacred Arts Gallery Exhibition
Bill Kemp's envelopes to students
Sins & Salvations in Calligraphy by Esther Feske
Bulletin Board
New Mexico State Fair 2019
The New Mexico State Fair 2020 has been cancelled, so please enjoy 2019. is held at Expo New Mexico.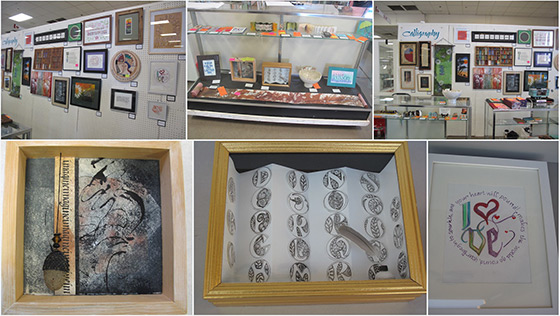 Escribiente members exhibit each year at the New Mexico State Fair in the Creative Arts Building during the show. Our Jurors for 2019 were Fred Yost and his wife Jaci Fischer.
View Slideshow of the 2019 entries on our Flickr account.
2020 Weathergrams Installation
Open Space Visitor Center, 6500 Coors Blvd. NW, Albuquerque NM
In conjunction with local poets, each year Escribiente members calligraph dozens of Weathergrams that are hung on trees around the Open Space Visitor Center grounds as a temporary art installation. Weathergrams for 2020 are hanging now!
Images from 2019 installation are included in the 2019-03 Newsletter. (View Photo Album on Facebook for the 2018 event.)
The Poets' Picnic event was cancelled for 2020, but our members created dozens of Weathergrams from local poets, so please stop by the Visitor Center and check them out.
Also, in conjunction with LIBROS Book Arts group, our members provide original artwork that is included in a handmade poetry chapbook. Artwork for 2019 chapbook (shown below) was provided by Julie Gray, Caryl McHarney, Esther Feske, Janice Gabel and Trish Meyer.
All proceeds from the Poets' Picnic event benefit Open Space Alliance, a nonprofit organization whose purpose is to promote public awareness and conservation of Open Space lands.
If you haven't been to the Open Space Visitor Center on Coors Blvd NW, check out their website.