Welcome to Escribiente
Meetings are held on the first Wednesday of the month, and we welcome guests and members of the public who have an interest in learning more abut the fine art of beautiful writing. Please see our Meetings page for full details and directions and download our Newsletters for reviews and photos from our workshops and programs.
Monthly programs take place in two sessions from August through November, and from February through June. Check our Meetings page for more details on upcoming meetings.
Member Holiday Party:
Saturday, December 2, 2023, 1–3pm
Please check your email for details and location. RSVP to Diane Inman .
Bring a calligraphic gift for the gift exchange (optional) along with a sweet or savory dish for our potluck luncheon. Feel free to dress in the Christmas spirit too!
Program: Wednesday, November 1, 2023 @ 6:30pm * Online via Zoom
Members have received a link to watch the Replay on YouTube.
A Book, a Tool, and a Technique
Presentation by Cora Pearl
Cora will be teaching Hand Lettering with the Folded Pen workshop for Escribiente in March 2024. More details on our Workshops page.
During most calligraphy workshops, inevitably certain questions get asked, such as, What kind of brush is that? What kind of paper are you using? and Can you write down the name of that book you just mentioned?
The answers to these questions often lead to sharing of purchasing resources, and additional similar books and tools. Sometimes there isn't enough time to share every variation and technique being taught in a workshop, even though there is great interest from students. This presentation will highlight a handful of those juicy bits of knowledge and resources as the featured elements all on their own. In this presentation, Cora Pearl will share a book, a tool, and a technique to enhance and add to your art making repertoire.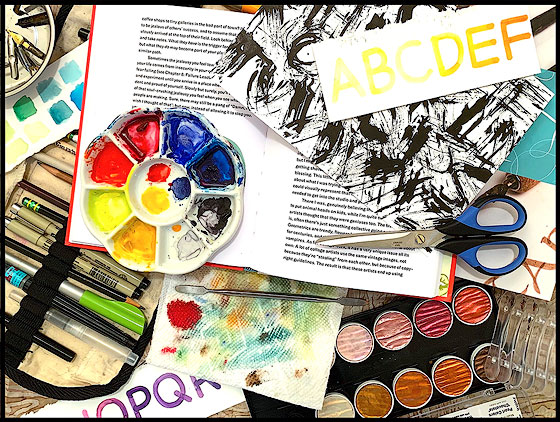 Cora Pearl started studying calligraphy at age 11 and has been doing calligraphy and hand lettering ever since. She has a BA in Art and Art History from Oberlin College. Cora works as a full-time calligrapher and teacher of lettering arts—she teaches full credit calligraphy and hand lettering courses in the art department at Portland Community College, and teaches independent workshops, classes, and private sessions, both in person and online. Cora has taught almost 2000 hours on Zoom since the beginning of the pandemic.
Members receive email notices for all programs and workshops.
Live Zoom meetings are open to members only. The Zoom replay will be available for a limited time to members after the meeting. An edited replay may be posted to our YouTube channel after editing, provided permission is granted from the presenter.
Upcoming events – please check your email for more details!
Meetup: Saturday, October 21, 1–3pm. Heights Cumberland Presbyterian Church, 8600 Academy Road NE, Albuquerque.
November 11–12, 2023: Fall Workshop (in-person in Albuquerque) – Bill Kemp's Script. Download Preview PDF.
Meetup: Saturday, November 18, 1–3pm. Heights Cumberland Presbyterian Church, 8600 Academy Road NE, Albuquerque.
For more details and upcoming programs, please see our Meetings page...
Latest Newsletter
Back issues are available for download on our Newsletter page.
2023-2 (July)
Download Print Resolution PDF (16MB) (can also right-click and select Download Linked File)
Edited by Lynda Lawrence.
The Inside Curve (Julie Wildman) – Workshop review by Sharon Shannon
Gilding with Love – Class review by Kasia Stevens
Tree Quote Swap – Gallery of images
Poets' Picnic, Weathergrams and Chapbook – event at Open Space Visitor Center, 2023
New Mexico State Fair 2023 Entry Information
Preview: Bill Kemp's Workshop (Nov. 2023)
Cover art: Maria Mercado
New Mexico State Fair – September 7–17, 2023
Escribiente exhibited in the State Fair at Expo New Mexico. Entry information for 2023 is included in our July 2023 newsletter, or Download PDF.
Entry Dates for calligraphers: Expo New Mexico Creative Arts Building — Eager volunteers will be available to accept your artwork: August 25th and 26th – 9:00AM to 5:00 PM
All skill levels welcome. Exhibit entries are open to all New Mexico residents.
See our Exhibits page of a list of award winners from 2022.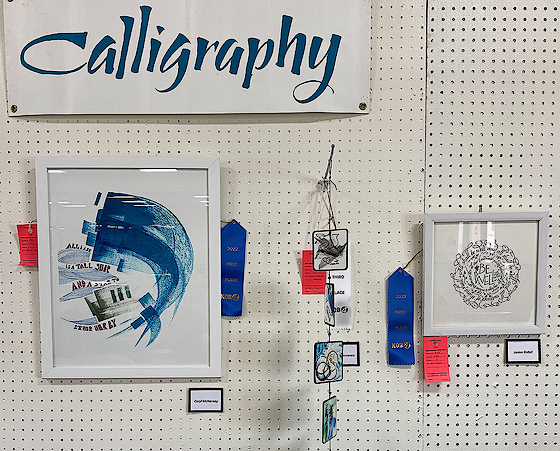 Escribiente members exhibit each year at the New Mexico State Fair in the Creative Arts Building during the show. View more images in the Autumn 2022 Newsletter [Download PDF].
Weathergrams Installation
Open Space Visitor Center, 6500 Coors Blvd. NW, Albuquerque NM
In conjunction with local poets, each year Escribiente members calligraph dozens of Weathergrams that are hung on trees around the Open Space Visitor Center grounds as a temporary art installation.
Images from 2023 installation are included in the July 2023 Newsletter.
In conjunction with LIBROS Book Arts group, our members provide original artwork that is included in a handmade poetry chapbook. Illustrations for the 2022 chapbook (some are shown below) was provided by Esther Feske, Elizabeth McKee, Caryl McHarney, and Trish Meyer.
All proceeds from the Poets' Picnic event benefit Open Space Alliance, a nonprofit organization whose purpose is to promote public awareness and conservation of Open Space lands.


If you haven't been to the Open Space Visitor Center on Coors Blvd NW, check out their website.