Welcome to Escribiente
Meetings are held on the first Wednesday of the month, and we welcome guests and members of the public who have an interest in learning more abut the fine art of beautiful writing. Please see our Meetings page for full details and directions and download our Newsletters for reviews and photos from our workshops and programs.
Exhibition
The Art of Calligraphy
Sunday, March 1 – Thursday, May 28, 2020
Location: Sacred Arts Gallery, St. Mark's Episcopal Church, 431 Richmond Pl, NE, Albuquerque, NM 87106 [Google map]
Escribiente member exhibition of calligraphic art that showcases a diversity of styles and techniques.
Gallery hours: Monday–Thursday, 9am–2pm; Sunday 9:30am to noon for service and coffee hour. * Advise calling ahead due to Covid-19 restrictions: (505) 262-2484
**** APRIL MEETING CANCELLED.
The health and safety of our members is of the utmost importance, and we are following the advice to limit community meetings due to the health emergency from COVID-19. We are therefore cancelling the April meeting. We will keep in touch with our members via email regarding future meetings.
*** APRIL WORKSHOP with Mike Gold * CANCELLED
Unfortunately the Community Center where we have our workshops is closed until further notice due to the Covid-19 outbreak. We plan to reschedule this workshop when the time is right. Stay safe everyone.
Latest Newsletter
Back issues are available for download on our Newsletter page.
2019–4 (December)
Download Screen Resolution PDF (3MB), or click Cover image (right)
Download Print Resolution PDF (11MB)
This issue wishes a fond farewell to Newsletter Editor Julie Gray as she leaves NM to move closer to family. We'll miss your superior calligraphic entries in our Exhibits and at the NM State Fair, and your generous help over all these years.
2019 NewMexico State Fair Gallery
Workshop Review: Pointed Pen – Lee Ann Clark
Show at the South Broadway Library
Copyright Information (courtesy of The Calligraphers Recipe Book)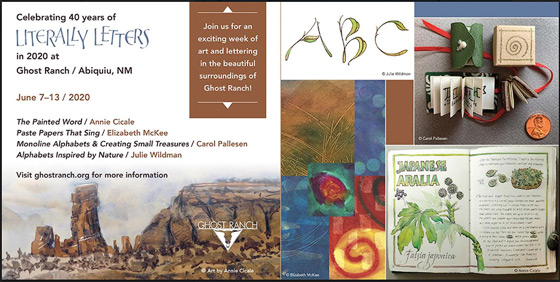 Literally Letters 2020
Ghost Ranch schedules a week-long learning opportunity for calligraphers every summer. This year it runs from June 7 – June 13, 2020. The four classes on offer are:
Paste Papers that Sing with Elizabeth McKee
Monoline Alphabets & Creating Small Treasures with Carol Palleson
Alphabets Inspired by Nature with Julie Wildman
The Painted Word with Annie Cicale
Visit Literally Letters 2020 website for descriptions and to register.
Beth House is one of the organizers if you need more information!
New Mexico State Fair 2019
The New Mexico State Fair is held at Expo New Mexico
September 5 – 15, 2019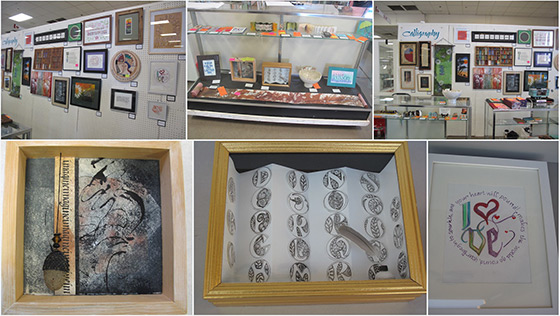 Escribiente members exhibit each year at the New Mexico State Fair in the Creative Arts Building during the show. Our Jurors this year were Fred Yost and his wife Jaci Fischer.
View Slideshow of the 2019 entries on our Flickr account.
2019 Weathergrams Installation
Open Space Visitor Center, 6500 Coors Blvd. NW, Albuquerque NM
In conjunction with local poets, each year Escribiente members calligraph dozens of Weathergrams that are hung on trees around the Open Space Visitor Center grounds as a temporary art installation. Images from 2019 installation are included in the 2019-03 Newsletter. (View Photo Album on Facebook for the 2018 event.)
As a fundraiser during the Poets Picnic event, our members volunteer to write custom weathergrams for attendees. Also, in conjunction with LIBROS Book Arts group, our members provided original artwork that was included in a handmade poetry chapbook. Artwork for 2019 chapbook (shown below) was provided by Julie Gray, Caryl McHarney, Esther Feske, Janice Gabel and Trish Meyer.
All proceeds from the event benefit Open Space Alliance, a nonprofit organization whose purpose is to promote public awareness and conservation of Open Space lands.
If you haven't been to the Open Space Visitor Center on Coors Blvd NW, check out their website.