Welcome to Escribiente
Meetings are held on the first Wednesday of the month, and we welcome guests and members of the public who have an interest in learning more abut the fine art of beautiful writing. Please see our Meetings page for full details and directions and download our Newsletters for reviews and photos from our workshops and programs.
Meet and mingle with local Escribiente calligraphers at our free monthly meetings. Guests welcome, so please drop by! We meet the first Wednesday of most months at the Manzano Mesa Multigenerational Center in Albuquerque (southwest corner of Elizabeth and Southern). More details on our Meetings page.
Weds, September 4, 2019 @ 6:30pm
(Q&A in lobby 5pm; social time 6pm)
Learn to Letter like a Sign Painter!
with Heather Martinez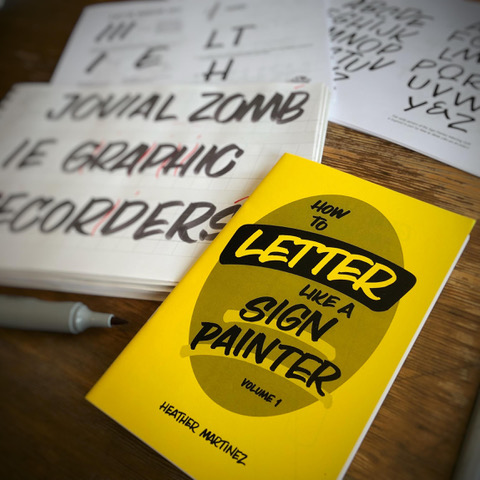 Explore another way to work with brush markers by making letters like a Sign Painter would! This program is for anyone wanting to letter better in this retro lettering style. Great for cards/envelopes, bistro menus, signage and more! More details on our Meeetings page...
Note: Our 2019–2020 series of programs will be centered around the theme of "pointy tools". Monthly programs take place in two sessions from August through November, and from February through June.
NM State Fair
Note that the entry deadline is earlier this year: Monday, August 19 & Tuesday, August 20. See Exhibits page for details. Please sign up with Beth House to create bookmarks at the fair!
Latest Newsletter
Back issues are available for download on our Newsletter page.
2019–3 (August)
Download Screen Resolution PDF (3MB), or click Cover image (right)
Download Print Resolution PDF (11MB)
For a Table of Contents inside the PDF, click Bookmarks icon on left side of Acrobat Reader

Helvetica Gets a Face-Lift
Beth House's Classes & Graceful Envelope
Member Gallery, new Board of Directors
The Art of Haiku show at Open Space Visitor Center
Weathergrams at Open Space Visitor Center
Workshop Review: Pointed Pen with Bill Kemp (Ghost Ranch)
Workshop Review: Have Sketchbook, Will Travel with Janet Takahashi (Ghost Ranch)
Workshop Review: Monoline with Barbara Close (Ghost Ranch)
A Scramble to Transcribe Historic Documents before we forget Cursive
Strange Facts about Symbols you see everywhere
Techniques for Lettering, This and That, and more!
2019 Weathergrams Installation
Open Space Visitor Center, 6500 Coors Blvd. NW, Albuquerque NM
In conjunction with local poets, each year Escribiente members calligraph dozens of Weathergrams that are hung on trees around the Open Space Visitor Center grounds as a temporary art installation. Images from 2019 installation are included in the 2019-03 Newsletter. (View Photo Album on Facebook for the 2018 event.)
As a fundraiser during the Poets Picnic event, our members volunteer to write custom weathergrams for attendees. Also, in conjunction with LIBROS Book Arts group, our members provided original artwork that was included in a handmade poetry chapbook. Artwork for 2019 chapbook (shown below) was provided by Julie Gray, Caryl McHarney, Esther Feske, Janice Gabel and Trish Meyer.
All proceeds from the event benefit Open Space Alliance, a nonprofit organization whose purpose is to promote public awareness and conservation of Open Space lands.
If you haven't been to the Open Space Visitor Center on Coors Blvd NW, check out their website.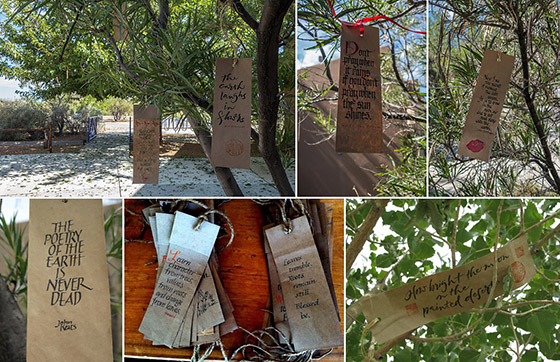 New Mexico State Fair 2018
The New Mexico State Fair is held annually at Expo New Mexico, Albuquerque, NM
September 6 – 16, 2018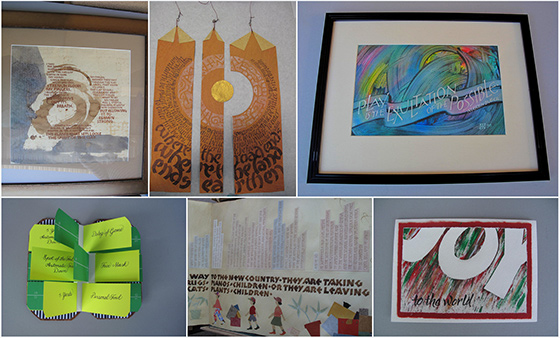 Escribiente members exhibit each year at the New Mexico State Fair in the Creative Arts Building during the show. Our Jurors this year were Fred Yost and his wife Jaci Fischer.
(PDF) List of Ribbons Awarded for 2018 exhibit
View Slideshow of the 2018 entries on our Flickr account, or click the image above.