Meetings Archive 2022–2023
Below is a summary of the meetings held during this year.
Programs will be added to our public YouTube channel when possible. Members receive private links to ALL our replay videos.
June 7, 2023

Members Show & Share
Tree Quotes Exchange (via Padlet)
Quote: For all the gifts they give us, thank a tree.
Caryl McHarney
VIEW GALLERY (PDF) of Tree Quote artwork from our July 2023 Newletter
Write out your version of this quote in any style on whatever substrate you choose and enter it in the Tree Quotes Exchange!
Before the June 7, 2023 meeting, load images of your artwork onto the Escribiente Padlet (check your email for the link). Each piece uploaded will be given a number and each person who participates will have their name put on Sharon's Spinning Wheel. During the meeting, you will have a chance to talk about your work. Then Sharon will spin the wheel and one of the other participants will win your piece (at which point their name will be removed from the wheel).
If you will not be available for the meeting, you can still participate by sharing your work on the Padlet and adding information in the caption. Your name will still go on Sharon's Spinning Wheel. Someone will win your piece and you will be eligible to win someone else's.
Exchange: For members who live in Albuquerque, the physical transfer of our wonderful work can take place in person on the 17th of June at the Heights Cumberland Presbyterian Church, 8600 Academy Road NE, Albuquerque, from 1-3 pm. Other works will need to be mailed to the recipient so consider the size of your piece when designing.
May 3, 2023
Earth Connections
Presentation by Caryl McHarney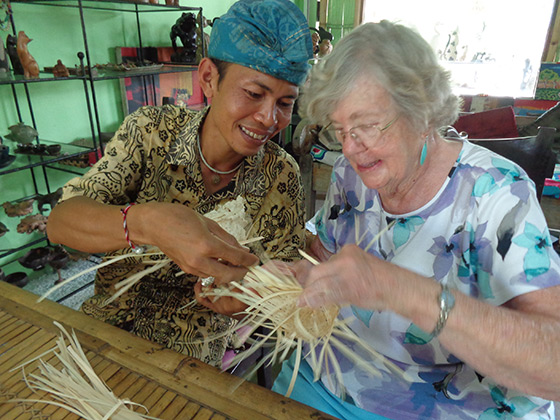 Caryl McHarney will captivate us with her long history of creating calligraphy in collaboration with nature. Her own stories and artwork will lead the audience on a journey across continents and through cultures as Caryl weaves her tale of nature as applied to calligraphy. Learn about the natural instruments and substrates she has used in her repertoire. Caryl will wrap up the program on a truly contemporary note with a nod to the future.
Caryl McHarney, an artist and teacher, has been a member of Escribiente for over 30 years. Her experience spans the globe and includes studies in calligraphy and book design at UNM with Ralph Douglass. She has worked in multiple facets of art, including design, illustration, painting, sculpture, printmaking, and, of course, calligraphy. After calligraphing the very first Navajo reader in color, Caryl worked with thirty-two Native language groups teaching book and classroom materials design. She has been an artist-in-residence at the Rowe Audubon Sanctuary in Nebraska and is the illustrator of The Private Lives of Sandhill Cranes.
April 5, 2023

Flourishing a Leaf
Hands-on program with Bill Kemp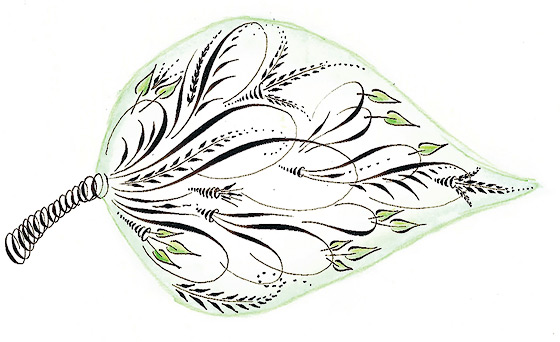 Master calligrapher Bill Kemp presents an interactive program using a pointed pen.
Inspired by the flourishing of Heather Held, Bill will show us how to use some simple strokes of compound curves and cartouches to illustrate an elegant and colorful leaf. Gather up these supplies to follow along on April 5th.
Pointed pen, Bill will be using a Nikko G nib, but use what is most comfortable for you.
Straight or oblique pen holder
Your favorite ink for the pointed pen. Bill will be using Tim Norton Walnut Drawing Ink.
Colored pencils
Optional: Pastel coloring chalk, to accent the leaf.
Paper: Bill suggests a heavy paper, like Hot Press watercolor paper. He will be using Fabriano 90 lb paper.
Bill Kemp has been a lettering artist for over 40 years, focusing primarily on Engrosser's Script. He has studied with the late Mr. Dick Jackson, the late Ms. Gwen Weaver, Master Penman Mr. Mike Kesceg, Deny Knight, John Stevens and his mentor Master Penman Mr. William Lilly, earning a Certificate of Merit, in Engrosser's Script, with Mr. Lilly. Bill has also served as president of IAMPETH and of Escribiente. He has taught at many IAMPETH conferences. Bill currently teaches through the Gentle Penman and teaches for other guilds around the country and internationally, alongside running his own calligraphy business in Albuquerque, New Mexico.
Visit Bill's website.
March 1, 2023
The Many Faces of Gothic (Blackletter)
Presentation by Kate Van Dyke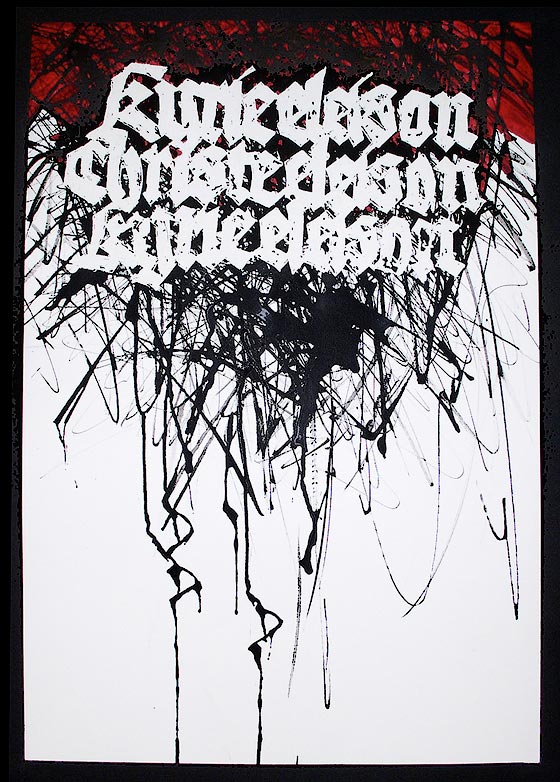 Gothic has been around longer than any other Western hand except Roman capitals, some 900 years. Naturally it has evolved in form and use over the centuries. Especially in the past century, lettering artists have been playing with these graphic shapes in ways never imagined by the scribes of the Middle Ages.
Join Kate for a trip through time and the amazing variety of Gothic (blackletter).
Kate has studied calligraphy for a long time with many instructors, including Ward Dunham, Sheila Waters, Hans-Joachim Burgert, and Donald Jackson. She has taught beginners in classes for Capital City Scribes, Waco Calligraphy Guild, San Antonio Calligraphy Guild and Austin Museum of Art School, as well as community ed classes.
She has had her work accepted in the Letter Arts Review annual juried exhibit and has exhibited at Austin City Hall, Austin-Bergstrom Airport and several local venues.
Follow Kate on Instagram: @callikatev
February 1, 2023
The Inside Curve: An "Inside" Look into Creating a Unique Alphabet
Presentation by Julie Wildman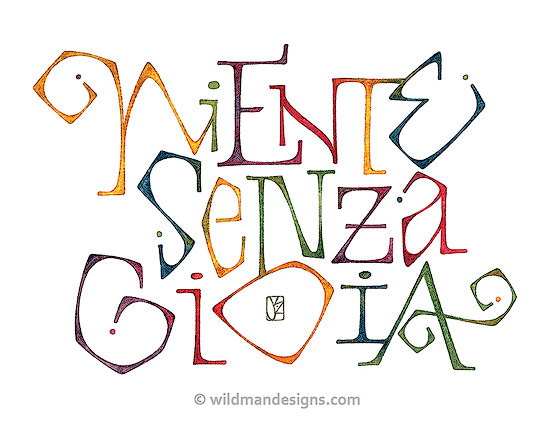 In this program Julie will show how she  came up with the alphabet idea, then show all the ways in which she has used it. How they're done will be the reason why you should take her upcoming workshop!
Julie Wildman's in-person Workshop on April 22nd – 23rd will be open for registration on February 1st, directly after our online meeting concludes.
Julie Wildman is a professional in the fields of graphic design, commercial lettering, calligraphy and workshops. Her studio is in northwest Indiana, only 30 minutes from downtown Chicago. Her work has been exhibited in juried shows throughout the Midwest and the U.S., including the Newberry Library in Chicago.
In 2007 and 2014, her pieces "Psalm 117" and "An Alphabet Book," respectively, won the Newberry's Purchase Prize Award and became a part of the Library's permanent collection. Her work has also been published in many issues of Letter Arts Review, Bound & Lettered, and various other type and lettering publications.
Learn more about Julie on her website at wildmandesigns.com
November 2, 2022
Monoline Capital Proportions
Hands-on program with Elizabeth McKee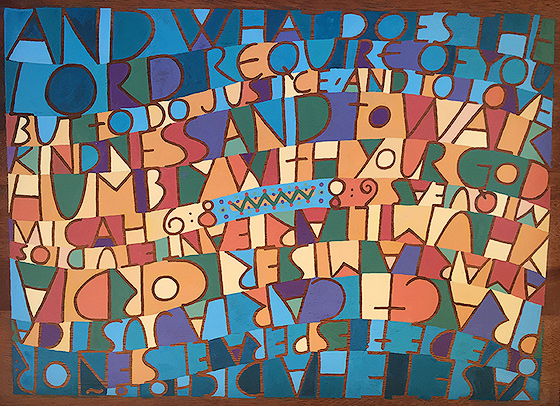 A Brief Introduction to Monoline Capital Proportions – and a bit of play!
Roman Capitals can be the most demanding letters to write and also some of the most fun. At some point all beginners come to the same place - proportions. It's good to pause a while and study the proportions that have been handed down to us through the ages. This hour will be a little refresher class for those with experience and quick intro for those of you who are new to Romans. It is also a warm-up for those of you who are taking Beth Lee's workshop on November 5th & 6th.
This is a hands-on program so bring your favorite pointy tool and paper. Elizabeth will be using colored pencils. Handouts will be sent out a few days before the meeting.
October 5, 2022
Alphabets with the B Nib
Hands-on program with Trish Meyer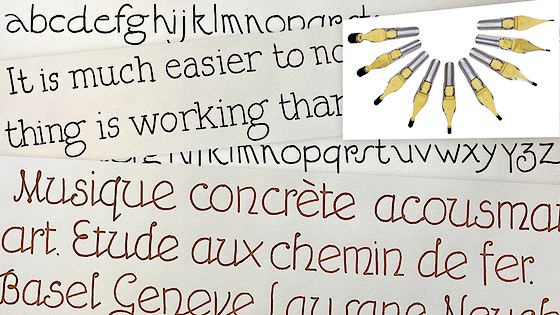 The Speedball B Nib is an easy-to-use round nib that makes letters of uniform width (no thicks and thins) – so it's perfect if you are new to calligraphy! Trish started by sharing examples and exemplars from sans serif to art nouveau to typewriter style, so you can see how how useful a monoline pen can be.
The second half of the program was a hands-on demo of a generic typewriter style. To follow along, Trish recommended a B-5 or B-6 for more elegant letters. You will need practice paper and a free-flowing ink. Handouts were emailed to members along with guide sheets for the B-5 and B-6 nibs.
[Download PDFs for the B-5 Guidesheet and B-6 Guidesheet]
September 7, 2022
Little Landscapes & Small Lettering
Presentation by Beth Lee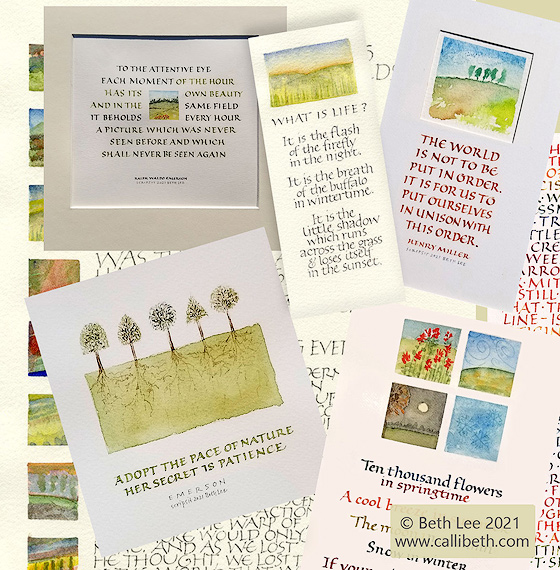 Escribiente is hosting a two-day workshop on November 5 & 6 with Beth Lee.
At our September meeting, Beth previewed what we will be learning in her November workshop and share some of the influences that led her to these little landscapes and a love of small lettering. "The small scale really makes it important for us to be able to modify our tools and materials, and students have found some of these strategies particularly eye-opening."
Beth developed this workshop in response to a request to show how to do a specific card that she had posted to a private Facebook group. "The more I teach this, the more I realize how many disparate influences over 30 years have fed into this workshop."
August 3, 2022
Show & Share Your Art!
Coordinated by Trish Meyer
The August Program was a show and share of what we did this summer. Many of us went to Ghost Ranch, IAMPETH, or took online classes and have lots to show and talk about. At least a few of you probably produced work on your own or are working on pieces for the State Fair!  Images were shared on Padlet.