Past Workshops
Casual, Playful & Inventive Capital Letters
Workshop with Peter Thornton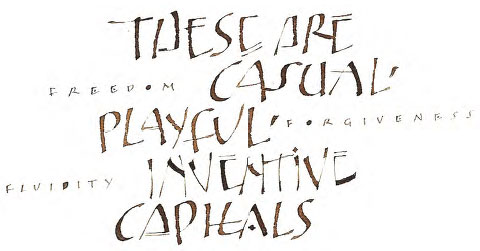 November 5–6, 2011

Workshop description:
Learning how to write/draw Roman capital letters can be quite intimidating with their insistence on exactitude and sameness – often producing a feeling of cold authority and/or formal dignity. However the needs of the modern scribe are often of a more personal and non-threatening nature, requiring letters to carry 'warmth' and 'charm' and some individual character and input as these Casual Capitals show.
We began by using the humble pencil with its freedom, forgiveness and fluidity to learn some of the FORMS open and available to us. This helped in the 'understanding' of the reasons and factors that will give our work unity and a certain freedom, rather than a 'hoped for and uncertain frivolity'.
We used both capital and lower case letters with pencil, pens and the 'Rebel Ruling Pen' in many exercises. There was muchsensitive tuition throughout with students encouraged to proceed at their own pace. Familiarity with Roman capitals was useful but not essential.
Biography:
Peter Thornton has been an enthusiastic full-time calligrapher for over 40 years, teaching throughout Europe, South Africa, Japan, Hong Kong, New Zealand, Canada and the U.S. He has taught at over 20 international conferences, as well as holding week-long Master Classes in the UK, Germany and Belgium. He was recently asked to teach at the Klingspor Museum in Germany.
His book, Alphabetically Speaking, will soon be followed by a sequel on the topic of Layout and Design with an emphasis on textural variations. He also co-curated a book The Painted Letters of Adolf Bernd that showcases the art and beauty of renowned German calligrapher Adolf Bernd's painted letters. Adolf created these letters over a 23 year span from 1971 (when he was 61 years old) until his death in 1994. Peter worked closely with the Bernd family to make certain that the beauty of these letters would be known and appreciated in the future.
Peter has also become known for his exploration of the visually and acoustically exciting world of 'musicalligraphy' – a combination of sound and letters – seen at some of the recent conventions. Peter has many pieces of his work on display in several civic, public and private collections throughout the world.
He is a native of Staffordshire, England, but has recently moved to the United States. He has earned the esteemed title of fellow of the Calligraphy and Lettering Arts Society, based in London. C.L.A.S. promotes the study, practice and teaching of calligraphy in all of its numerous forms.
He is currently living in Tennessee with his wife, Sherri, and their 3 cats, and spreads his time between his work, the vegetable garden, cooking and when time permits, fishing.
Peter still firmly believes that letters want to be burdened with affection and not perfection.